BearBall FINALLY Claims a Chip
All-DL Honor Roll ARRIVES

We talk about the word team all the time. A team is everybody from top to bottom from the GM to the waterboy. Some franchises even like to make their fans feel like part of the team. No one man is above the team and no one man ever should be.

But how about three? How about three men being a little above the rest of the team on BearBall? No, without the other guys, they wouldn't be beating other teams 3 on 5, but when the three are scoring 53 of the team's 56 points in the Final – and all but FIVE field goals in their entire playoff run of four games – well, there is at least little doubt that, insofar as scoring, they are the team.

53 of 56 points? Over in South Beach, even Carlos Arroyo and Zydrunas Ilgauskas score more than just 5% of the Heat's points in any given game.

One – just one – field goal was what BearBall players not named Kashem Miah, Danny Chin, and Mike Chin mustered against the Gritty Committee in the AAA Finals. That came courtesy of Andrew Chen, who hoisted up 5 shots in total, 4 more than the next most attempts by any other player (that would be 1 for you non math majors) – which was tried by three other guys.

What that means basically is that of the 54 attempts taken in the AAA Chip, only 8 were not by the Big 3. And going a step further – for the entire playoffs, of the 230 shots taken, only 34 were not from Miah or the Chins. Not as concentrated for just the Finals, but not exactly spreading the wealth either.

So, while many of us analyze this and criticize from afar and are glad we aren't playing with these three little piggies who hog shots like a fat kid does candy, Danny Han, Andrew Chen, Brent Morita, Eugene Truong, and Jae Ha Hwang couldn't be happier than - staying with the bacon theme - pigs in poo.

You see, while field goal attempts come for Jae Ha Hwang about as often as a total lunar eclipse, the venerable captain of this bunch wouldn't want it any other way. While Danny Han gets about as many points as Jeremy Lin got technicals in his Harvard career, he's happiest exerting all his energy picking off passes instead of taking aim at the hoop. Eugene Truong is easily a number 2 scorer on several teams around the league, but with the Big 3, ET doesn't mind at all staying alien from the scoring column and chipping in only when his number is called. Andrew Chen used to worry about his shots all the time, but ever since his engagement, he's taken a more laid-back approach to life and basketball (sometimes those are one and the same) and only cared about extending a helping hand to his friends. He had an all-time season low in FG attempts and instead tied for the team lead with 4.1 assists per game. Brent Morita? This quiet guy with the toothy grin – he's just happy to be here, as he always is in anything he's engaged with. Seriously, do you think when B-Mo is about to get a root canal, he walked into the dentist's office looking that chipper? Probably.

So, while they weren't the perfect team this season – they had 2 losses and were prone to getting outrebounded – they were the perfect team for each other.

Kashem Miah, Danny Chin, and Mike Chin took all the shots and everyone else did everything else. Not that KM, DC, and MC didn't do anything else – cause they could rebound, pass, and defend as well as they could score – but that's just the way it is with this team and every last man on it, revels in how the system works. They score, we get back into the full-court press and wreak havoc. Or, we rebound and look for them on the break. Or, we give them a blow, but we don't play hero and try to be who they are, rather just keep a good thing going.

In the past, for several seasons now, BearBall would come agonizingly close. Just two short seasons ago, in fact, they were in this same situation against the Gritty needing just one win to seal the deal. Then, they lost Game 1 and then dropped Game 2 in OT to choke the chip away.

This time, as promised by Miah before the game, they took care of business and secured their first title as a group, reveling in it after, soaking in the sweetness for as long as they could (that is to say until the Open Division Chip pushed them off the court a few minutes later.)

Whereas in seasons past, while the talent was always there, but the attitude by every last player may have not been, this season, it was finely tuned from beginning to end. Every man and his mother bought into the system and it finally bought them a long awaited championship.

In the real game, where players really are bought, if the same approach brings Miami a title, you won't hear a single complaint from Ilgauskas, Arroyo, Mario Chalmers, Mike Miller, and company.

No matter what level you play at, you are defined by titles and not individual stats. No one understands this better than the company of the Big Three.

What's that you say, Boston? Sam Perkins is back? He may not score a point the rest of this season, but if the Celts' Big Three hold off Miami's Big Three and then go on to win their 18th title, you bet he'll have made every bit of difference as much as KG, Ray-Ray, or The Truth.

And, that, our friends, is the truth. A team is everybody from top to bottom, no question about it.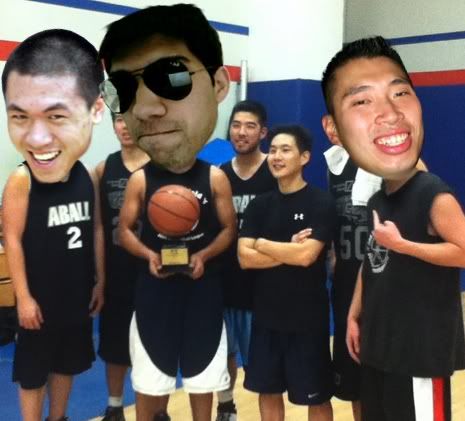 Chin, Miah, and Chin may have been big, but the rest of BearBall was equally so in their own ways.