The Chip Carey AAA Championship Wrap
All-DL List Unveiled

CONGRATS TO THE NYC GRITTY COMMITTEE - WINTER/SPRING 2010 AAA CHAMPIONS!

Gritty gone and done good. Real good.

After three seasons of having what many have widely considered the best AAA team built to last, success has at last found the NYC Gritty Committee.

They took the long way home, but after knocking off BearBall in back-to-back games in the Championship round – Game two in TRIPLE OT – Gritty can finally call themselves golden.

In their debut season, Gritty finished 7-2, earned a number 2 seed, but were snakebit after Elbert Kwak left for the Hawaiian Islands midway through the season, throwing a wrench in their plans to dominate. Last season, Gritty finished 7-1, snagged the #1 seed, but fell to the Bearmen (now BearBall) twice in the playoffs, leaving them frustratingly short once again of their goal.

They finished 6-2 this season, took #2 overall, and then quickly found themselves in the loser's bracket again after losing to BearBall 48-47 in the 3rd round. At that moment in time, Gritty's gang took stock in the fact that they were an overall 20-5 in the past three regular seasons – one of the best overall records in that span – and yet had never so much played in the championship, let alone won the thing.

Jiwon Kim, the mastermind who orchestrated this team from top to bottom, decided enough was enough. He held a player's only meeting after the BearBall loss and collectively, the guys decided this was it. Not only was it win or go home, it was win or disassemble this team. Gritty is by no means old, but this veteran ball club's heart could take no more. If they didn't win it all here and now, maybe it was time to look in the mirror and make some drastic changes this off-season.

And so, since that heart-to-heart guys had with each other over a round of drinks in K-town, Gritty got, well gritty.

They took out Team Nyce (in overtime), the #1 seeded Black Mambas later that same day, and went into the chip series against the only team they wanted to face in the Finals: their nemesis BearBall.

The task was simple. Win Game 1 to force a Game 2 and then from there, it was anyone's title to take. Without super-sub Ken Van available for Game 1 though, it was easier said than done.

It helped then that Kyu Lee and Dave Kim came out playing like 2 players each as Lee lit it up with 3 threes in the 1st to help stake Gritty to a lead they would only lose once in the game before Kim, who collected 15 and 16, pounded the paint in the back half to help Gritty to 56-48 win, forcing Game 2 to go into effect.

That Ricky Vien, BearBall's most effective post player had to sit out the series after possibly tearing his ACL in their semifinal win, definitely hurt them. That BearBall couldn't win without him couldn't be further from the truth.

BearBall, who surrendered Game 1 with 30 seconds left in it, regrouped in the intermission (we like to think of a two-game set as 8 quarters of basketball with halftime coming after the 4th) and came out with the first big punch. They jumped out to a 7-0 lead and Gritty looked a like they were going to have a let down after expending all their energy to get Game 1.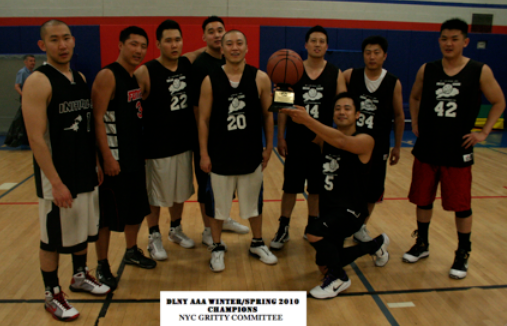 CHAMPS - L to R: D. Kim, J. Kim, C. Youn, V. Chia, J. Park, K. Van, K. Lee, K. Lim, R. Hyun


But that's just the thing with veteran ballclubs. And that's just what was said in the player's only meeting. Something to the effect of, "Trust in thyselves fellas. We're one of the best teams. The only pressure we have is the pressure we put on ourselves. Everyone always expects us to win and we wind up trippin' over ourselves. Let's just play like there's no tomorrow. Play loose. Have fun. Clear eyes, full hearts, can't lose."

Little by little, play by play, Gritty got back into the game with one player in particular putting in work to ensure that his team would have a shot to win at the end.

With Kash Miah and Mike Chin pouring 28 and 22 in respectively and with Jae Ha Hwang (6 pts/10 rbs, relentless work on the boards) doing his best to fill in for Vien, Christopher Sae Youn took it upon his broad shoulders to be the grittiest Gritty guy. When all was said and done, you could see the dirt underneath his nails, he smelled like he hadn't showered in months, and he'd perhaps lost half an inch off the sole of his sneakers from pounding the pavement so hard.

With BearBall tasting the title – they were 7 seconds away from it – Youn stepped up confidently and drilled a triple that tied the game at 54, sending it into OT but only after Danny Chin missed a shot in the lane at the buzzer that just rimmed out. With new life in his team, each time BearBall would do something in OT1 or OT2, there was Youn to put his team right back into it, sending it into each successive OT.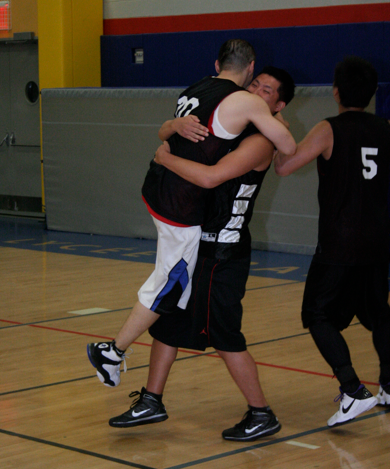 At last.


Players (D Chin) started to cramp up, foul trouble plagued some guys, no one knew how many time outs were left for each side the deeper the game got, and the deeper the game got, the deeper Youn got.

In the 2nd OT, he hit a 3 that looked to be the game winner, but Miah made a clutch and 1 that sent it into the 3rd OT. In that OT, Youn's 5th and final triple of the night was the straw that broke BearBall's back. From there, the two sides exchanged deuces and by any kind of math one does, that wasn't going to be enough. Youn's late touch from 3-point land was simply too much.

His virtuoso performance read like this: 31 points (the only Gritty in double digits), 18 rebounds, 9 assists, 3 steals, and a block. The game didn't end until late into the night and the janitors were antsy that they were kept around for so long, but even they had to applaud CY's game.

It was heartache for BearBall, particularly since they came in as the team with a loss to give, but then they too had to hand it to Youn. Both sides had just finished playing the greatest Finals game the AAA has ever known, and while one side had to unfortunately lose, both sides could only show much mad respect for the other side for being part of something so electric.

So, a hearty congratulations are in order for Gritty. It may not have been the perfect path, but the end result was what they wanted and it was a long time coming. We wouldn't blame the guys one bit if they cracked open the trophy to pour champagne in it to drink from.

The NYC Gritty Committee are finally champions and after all they've gone through, it's back to K-town they go. Only this time, it's not for a player's only meeting.

This time, it's to get crunked.



If you're not already following us on FB, add as: here. We're on Twitter out there somewhere too.