New York D-Unit Captures 1st Ever Gotham City Games Title
Click: All Tourney Selections!

Good show, Gotham.

While our West Side brothers battled it out at the annual San Fran Gold Rush, at the same exact time (well, maybe 3 hours ahead), here in the 212 – or primarily 718 rather – DLNY rolled out its first pan-Asian flavored Gotham City Games.

As a biased observer, I must say, it was a great demonstration of some of the finest in amateur Asian American basketball around. For entertainment value, it was better than anything I could have caught over on Broadway for about 150 bones more. (Do yourselves a favor and skip Avenue Q, it's a real pisser for minorities.)

Six East Asian teams. Six South Asian teams. The Dream League and IndoPak Sports of New York smartly collaborated and the partnership could not have worked out better than the day Daryl Hall met John Oates on the fateful night at a Philly area talent show in the late 60's. (If you have no idea what I'm talking about here, do yourself a favor and do a little research on America's most influential band who has artists of today including The Killers, Amerie, Jason Mraz, the Ying Yang Twins, and more, sampling their music, or effecting their notes the way blue-eyed soul would have done it.)

Friday was madness. Games at Baruch in Manhattan and games at Poly in Brooklyn.

2006 Gotham City Games Champs - New York D-Unit.


The night was barely starting and word out of Baruch was that the Yamato Ballers had upset the mighty New York Cruisers (who had just won the DL Summer/Fall NL Division on Wednesday), albeit without stalwart center George Chan who chose snowboarding over ball. At roughly the same time that 60-48 score became final, over at Poly, we bore witness to the New York D-Unit's impressive center – Nafi Mushriqi – who was on the Afghanistan national team. His 6'8" rock solid frame that screamed Rony Seikaly left no doubt that the D-Unit looked like D team to beat.

Things were just getting started and already heads were spinning.

DLNY MVP Shawn De Los Reyes and former MVP Kevin Park running on Tri-State InvAsian? After spending the better part of the last two-and-a-half years battering them over and over again, the two joining the team was not unlike LA's Magic and Byron Scott suddenly jumping over to the Celtics and switching allegiances.

Indeed, heads were spinning. And AI hadn't even been traded yet.

And this was just a sampling of the madness that was made here in December.

10 pool play games on Friday night. Many more on Saturday. And then the start of the playoffs on Saturday evening that was highlighted by Yamato's stunning 48-46 win over Tri-State thanks to Banglee Takenouchi's (THE name of the tournament) buzzer-beater that had the gym in an uproar and feeling a lot more like mid-March than mid-December.

Those poor Ohio Browns. Traveled all the way in from Columbus only to find out on Saturday morning that their opponent – the New York Heatkeepers – had to drop out due to several players getting injured in a car accident on Friday night that left guys hospitalized. The Browns are resilient though. After all, they are cut from THE Ohio State University's cloth (they had to love that doofus Desmond Howard's foolish breakdown on ESPN) – the finest athletic institution in all the land. So the team, with the help of the forfeit win, shook it off, went to get some bagels, and came back and earned the #1 seed going into the playoffs by winning their next two, and along with the #2 Cruisers, #3 New York Renegades, and #4 New York Fury, earned a bye till Sunday as seeds 5-12 duked it out on Saturday evening.

(5) D-Unit, who surprisingly didn't earn a top 4 seed thanks to a loss to Philly Fay in pool play, dusted off the (12) Heatkeepers 79-47 (a replacement team was found to fill in last minute.)

Azizikia was just impossible to catch.


(6) Philly FAY sent their Philly brothers, CMF, back to the 215 with a 65-50 win led by Joe George's 22 points. CMF is young and have much growth ahead of them, though they have a nice piece in Mars Shah to build around. We could have an all-tournament name team, I swear.

The 7-10 game was the Banglee game. (From now on, any game winners will be called Banglees. "He Bangleed a shot to win 62-61.)

And in the final playoff match-up of Saturday, a mild upset took place when the (9) Dream League Warriors toppled (8) Virginia Young Gunz in a rematch of a pool play game that DL also won, despite another outstanding effort from KK Peters who was easily one of the most athletic players in the tournament. One who was a little more athletic than him was DLW's Nic Echevestere who had 23 points and 10 rebounds in the win.

Rest for some, but partying for most others, ensued after Saturday wrapped and when Sunday rolled around, damned if NYC's nightlife didn't show its ugly head.

The first quarter-final game pitted the D-Unit against the New York Fury who were furiously short in manpower, carrying only 5 guys, perhaps losing their other 7 to a rough Saturday night? The D-Unit, minus Nafi, rolled to a 64-47 win despite Varun Bhartiya coming out looking like he'd forgotten how to play basketball (he admitted he was out till 5am.)

The next quarter featured another undermanned team as FAY tipped off against the Renegades without two of their better players. Smooth swingman Toby Jose and sharp shooter Sidd Anand awoke to find their car missing (presumably to theft, and not forgetfulness) and went straight to the police to deal with the mess as their team went down valiantly to the Running' Renegades.

The Cruisers, who expected to get Chan back on Sunday but didn't, got a shot at redemption and didn't let it go to waste as they took on Yamato again and this time kicked them all over the court, 77-51. It wasn't hangovers or stolen cars that got Yamato this time, but rather Yoshi Kagitomi's son's recital. Y2K gives in every once in awhile to his boy's Sunday performances and misses games. For one of Gotham's Defensive Players of the Tournament, what's a father to do? Most players without families just don't understand. Yet.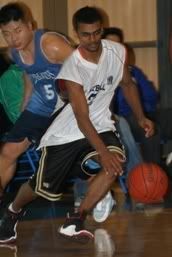 To D's, Nausrudeen was nauseating.


In the final quarter-final, DLW broke open a tight game in the 2nd half to oust the top seeded Browns to send them back to focusing on more important matters at hand – like how their basketball and football team were going to flatten Florida. Normally when a 9 upsets a 1 as happened in this game, it's national news. But any insider who knew both these teams – knew that DLW's 1-2 pool play record was hardly indicative of their real worth – and perhaps Ohio's #1 seed was not as well (not that I'd put any Buckeye down, guys.)

And so the Final 4 was set – one semi set the Cruisers against the Renegades. The other, DLW against the D-Unit.

Banglee's shot gave reason as to why the Yamato-Tri game was the game of the tournament, but how do you go against a double overtime affair in the semis?

You can't really, but anyone who stuck around to see age old rivals – the Cruisers and Renegades – play the first semi, saw a ridiculously good game.

And man, was it ridiculous.

When these two get together, it's usually always a grand affair. Why, a mere couple weeks ago, the Cruisers took a one-point game in the Dream League playoffs when Tony Hu blocked a last second James Choi look at the buzzer.

In this game, the tables reversed and the Renegades took a one-point win when Hu missed a chance to tie the game with just 10 seconds left in the second overtime after missing a free throw off an and 1. Choi, in a bit of retribution, delivered the clinching free throws before Hu scored again for the final score.

In the game, the Cruisers' sharpshooter CB Liu fouled out towards the end of regulation. Hu did as well, but since they had no one left on the bench (where did all their guys go?) the odd rule that allows a player who has fouled out to stay in the game if the team has no bench players kicked in. (That rule states that any foul committed by the player who has 6 fouls already result in a technical foul and possession of the ball for the other team.)

An even more seldom used rule was applied late in regulation when the Renegades Gene Kim hit the deck and suffered a minor concussion and had to leave the game. Unable to shoot free throws, the Cruisers – after much discussion about what the NBA rule really was – were allowed to pick a player from the Renegade bench to shoot in lieu – and picked correctly when Mark Lee entered and bricked both.

It's kind of hard to describe what pandemonium feels like, but as all of this was going on, trust when I say that that's what everyone in the gym was feeling.

How do you follow up such classic semi? It's like having to follow Mariah Carey in a singing contest. You can't really, but you just go up there and try.

And you know what? DLW and D-Unit went up there, and while it wasn't Mariah, turned in something worthy of Kelly Clarkson with a nail-biting 70-67 game that D-Unit pulled out when DLW's last gasp 3-point tries went awry.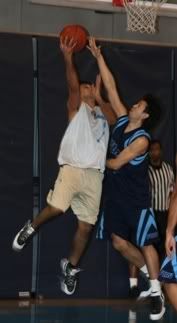 All-Defender Mo G shows some O.


Pardon the hyperbole but this game was as good as, if not better than many of the NCAA variety we see. And if that's because no fewer than 5 players who have collegiate experience were running in it, then we start to understand why.

DLW actually held an 11-point lead during the 3rd quarter as Echevestre (UC Santa Cruz) simply could not be stopped. Unfortunately for DLW, D-Unit was the team with more college players, and in the end, they found a way to survive.

Ali Azizikia (school in Maryland), no stranger to Dream League tournaments, took over in the 4th quarter, finished with 27 points, and along with 17 points from Usama Nausrudeen (York College) and 14 rebounds from Bhartiya (Cooper Union), sent Cinderella (when you're a 9-seed in the semis, you earn that label) packing.

So, by the time the Final rolled around, after two exhausting semis, could it all be capped with a classic ending?

In a word – no.

It was anticlimactic, but it was historical nonetheless, the D-Unit clinched the first ever Gotham City Games with a 64-48 win over the Renegades in the Championship led by 17 points each from co-MVPs of the tournament – Azizikia and Nausrudeen.

And so marked the end of what will hopefully be the beginning. Congratulations to D-Unit.

The beginning of an annual tradition. The beginning of more participation across the teams from the Asian American community on the grandest (as grand as it gets for us) platform.

The West has been doing it for some time now. The East, with these Gotham Games, have just begun.

Unlike what Rudyard Kipling said once - Oh, East is East, and West is West, and never the twain shall meet - let's hope that the 'twain, and everything in between, one day does.

Same time, same bat-channel next year, folks?