info(at)dreamleague(dot)org

---

facebook | twitter

---

New site!!!: DRMLG.ORG
DREAMLEAGUE HOME
Poor Man's Commish
SEASON HOME
SCHEDULE/SCORES
STANDINGS/TEAMS
PLAYER STATS

RULES & REGULATIONS
ABOUT US

REGISTRATION

DONATE

ONLINE WAIVER

HELP/COMMENTS


---

2010 Fall Saturdays in SF (9/18-11/6)

---

2010 Fall Bay Area Sundays (9/19-12/19)

---

2010 Summer Bay Area season (6/6 thru 9/12)

---

2010 Summer NYC AAA

---


SUMMER VEGAS TOURNEYS
ELITE/6FT+1/Masters/INT
Sep 11-12, 2010 - SIGNUP!!

---

HAITI RELIEF
Donate $10 text HAITI to 90999

---

Support Jeremy Lin! Harvard at Columbia (NYC) 1/29/2010

---


NYC TOURNEY - 2008 results

---


2009 GOLDRUSH INFO

---

2011 LA Showcase SIGNUP!
2010 LA Showcase results



---

---

New site!!!: DRMLG.ORG
DREAMLEAGUE HOME
Poor Man's Commish
SEASON HOME
SCHEDULE/SCORES
STANDINGS/TEAMS
PLAYER STATS

RULES & REGULATIONS
ABOUT US

REGISTRATION

DONATE

ONLINE WAIVER

HELP/COMMENTS

Homecrest Cruisers 53, Tri-State InvAsian 37
Cruisers Halt Tri-State Streak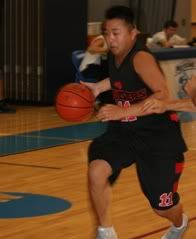 I'm not meek!


August 23, 2006 - Brooklyn, NY (DL) - In a battle of undefeated teams on Wednesday night, the Homecrest Cruisers, who came off a one week bye, wore down the Tri-State InvAsian with a deluge of excessively competent bench players. Garry Yeung continued his steady improvement and Mika Ohiorhenuan is making a case as La Liga's 6th Man of the Year – unless he works his way into the starting lineup, which is a very distinct possibility. Homecrest built an 11-6 lead in the first quarter with inside dominance (Tony Hu converting four out of four free throws after getting hacked in the lane time after time) and sharpshooting from the perimeter (Warren Cheung and Quincy Tso hit threes).

The interior decorating was to be expected. With Homecrest, that's a staple as breathing is for humans. As for the perimeter game, with CB Liu not geared up, it was a toss-up with the chances of getting anything going from their slim to none.

That is until Tso read a recent profile about the Cruisers that suggested he had become "meek."

For Tri-State, it couldn't have come at a worse time.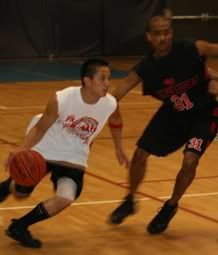 I am Mika!


Tso, determined to erase this label, pronounced before the game his displeasure and promptly came out strong and stayed strong. He finished with one of his best games in a long time going 4/4 from the field, 3/3 from three for 11 points.

If being perfect is meek, I'd hate see what strong is considered.

Tri-State's offense was on neutral the whole game against Homecrest's active match-up zone, which produced 16 turnovers and 29% shooting from the InvAsian. (Credit much of this to Tso as well with his active feet.) Homecrest increased the lead to 29-18 at half.

Homecrest proved their reputation as being the most efficient team in the league; they used just 39 shots to produce their 53 points and assisted on 14 of their 20 made buckets. They ran away from Tri-State in the third quarter with a smothering defense that forced a streak of turnovers and layups. They went up 45-30 at the end of the quarter. The only highlight for Tri-State turned out to be a missed Davey Buckets (12 points on 4/14 shooting) layup after a signature low crossover that had spectating Da Bien players oohhing and aahhing their shocked approval. However, again, I stress the word miss.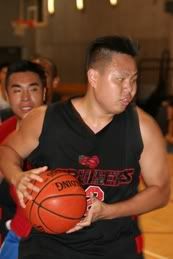 Not meek, nor Mika.


When a missed lay-up is your high-light, it's a low evening.

The InvAsian, who played their third game in five days, seemed tired and unable to give anymore after logging many miles and playing many games in such a short time frame and were pinned with their first loss after a nice 3-0 run to start the season which included a nice win against the defending champ Ghee Unit just the night before tonight in Jersey City.

This game seemed decided by the midpoint of the fourth quarter. Tri-State never made a serious run, and George Chan (10 points, 7 boards, 2 blocks) and Tony Hu (9 points, 6 boards) worked their high low game to agonizing success especially since Tri's newest big man Jason Yee was unavailable and Jiang Yu played a game he'd rather forget, going 1/9 from the field for just 2 points.

Homecrest won going away, 53-37 to move to 2-0. Next up for them is another chapter in their rivalry with Da Bien. Tri-State's schedule doesn't let up with a contest against the Renegades after a long lay-off of what will almost be a month. The long lay-off was self-induced however as several players from their roster will be going out to Las Vegas the week after Labor Day Weekend for the annual Las Vegas Invitational Tournament.

Yes, Stan is still playin'.


Player of the game honors goes to Mika Ohiorhenuan who seemed to be all over the place even when he wasn't in the game. (Can some team make him an offer he can't refuse so he can get more minutes already?) He finished with a pedestrian looking 10 points, 4 rebounds, 2 assists, 1 steal and 2 blocks, but there may not be a more versatile player in the league on both ends of the floor. He finished the game guarding the center position.

If that's not versatile, then Quincy is meek.

Footnote: The second player of the game was Homecrest's SG David Cheng (5 points) who made a rare appearance in the lineup after not having played in a millenium. Cheng got married during last season, moved to Pennsylvania to a town that's not on the map and is working for the family business. That's called responsibility people. He traveled well over 200 miles to make this game. That even bests DL's normal road warriors Andre Liu and Swishy Rassiwalla by about 70 miles. Congrats David!
Score by Quarters
| Team | Q1 | Q2 | Q3 | Q4 | OT | Total |
| --- | --- | --- | --- | --- | --- | --- |
| Homecrest Cruisers | 11 | 18 | 16 | 8 | - | 53 |
| Tri-State InvAsian | 6 | 12 | 12 | 7 | - | 37 |
Boxscore
Homecrest Cruisers - 53
Player
FG
3PT
FT
REB
AST
STL
BLK
TO
F
PTS
Chan, David
0 / 1 [0.000]
0 / 0 [0.000]
0 / 0 [0.000]
0
0
0
0
0
1
0
Chan, George
4 / 6 [0.667]
0 / 0 [0.000]
2 / 5 [0.400]
7
1
2
2
0
2
10
Cheng, David
2 / 7 [0.286]
1 / 4 [0.250]
0 / 0 [0.000]
0
1
0
0
0
0
5
Cheung, Warren
0 / 3 [0.000]
0 / 2 [0.000]
0 / 0 [0.000]
0
0
1
0
1
3
0
Hu, Tony
2 / 5 [0.400]
0 / 0 [0.000]
5 / 6 [0.833]
6
2
1
0
3
3
9
Liu, CB
DNP
Ohiorhenuan, Mika
4 / 5 [0.800]
1 / 1 [1.000]
1 / 2 [0.500]
4
2
1
2
3
1
10
Tso, Quincy
4 / 4 [1.000]
3 / 3 [1.000]
0 / 0 [0.000]
3
0
0
0
2
0
11
Yeung, Gary
3 / 6 [0.500]
0 / 1 [0.000]
0 / 0 [0.000]
1
1
2
0
1
3
6
Yeung, Stan
1 / 2 [0.500]
0 / 0 [0.000]
0 / 0 [0.000]
1
7
5
0
5
0
2
20 / 39 [0.513]
5 / 11 [0.455]
8 / 13 [0.615]
22
14
12
4
15
13
53
Tri-State InvAsian - 37
Player
FG
3PT
FT
REB
AST
STL
BLK
TO
F
PTS
Lam, Johnny
DNP
Liu, Andre
0 / 3 [0.000]
0 / 2 [0.000]
0 / 0 [0.000]
1
2
0
1
0
2
0
Mui, Ming
3 / 6 [0.500]
2 / 4 [0.500]
1 / 2 [0.500]
3
0
3
0
2
3
9
Rassiwalla, Sabir
3 / 5 [0.600]
0 / 0 [0.000]
2 / 2 [1.000]
2
0
0
1
1
2
8
Wang, Owen
2 / 7 [0.286]
0 / 1 [0.000]
2 / 4 [0.500]
2
3
1
1
2
0
6
Wong, David
4 / 14 [0.286]
0 / 2 [0.000]
4 / 6 [0.667]
2
0
2
0
5
2
12
Yee, Jason
DNP
Yu, Jiang
1 / 9 [0.111]
0 / 1 [0.000]
0 / 0 [0.000]
7
0
2
0
6
5
2
13 / 44 [0.295]
2 / 10 [0.200]
9 / 14 [0.643]
17
5
8
3
16
14
37
Referees