info(at)dreamleague(dot)org

---

facebook | twitter

---

New site!!!: DRMLG.ORG
DREAMLEAGUE HOME
Poor Man's Commish
SEASON HOME
SCHEDULE/SCORES
STANDINGS/TEAMS
PLAYER STATS

RULES & REGULATIONS
ABOUT US

REGISTRATION

DONATE

ONLINE WAIVER

HELP/COMMENTS


---

2010 Fall Saturdays in SF (9/18-11/6)

---

2010 Fall Bay Area Sundays (9/19-12/19)

---

2010 Summer Bay Area season (6/6 thru 9/12)

---

2010 Summer NYC AAA

---


SUMMER VEGAS TOURNEYS
ELITE/6FT+1/Masters/INT
Sep 11-12, 2010 - SIGNUP!!

---

HAITI RELIEF
Donate $10 text HAITI to 90999

---

Support Jeremy Lin! Harvard at Columbia (NYC) 1/29/2010

---


NYC TOURNEY - 2008 results

---


2009 GOLDRUSH INFO

---

2011 LA Showcase SIGNUP!
2010 LA Showcase results



---

---

New site!!!: DRMLG.ORG
DREAMLEAGUE HOME
Poor Man's Commish
SEASON HOME
SCHEDULE/SCORES
STANDINGS/TEAMS
PLAYER STATS

RULES & REGULATIONS
ABOUT US

REGISTRATION

DONATE

ONLINE WAIVER

HELP/COMMENTS

Homecrest Cruisers 63, Ghee Unit 48
A Tale of Two Destinies: Cruisers-Ghee Unit Rematch of Last Season's Final
October 26, 2006 - New York, NY (DL) - League schedule-makers undoubtedly had much grander designs and visions of high drama when they set up the Homecrest Cruisers-Ghee Unit second showdown of the season for this late in the season. And who could blame them, given the now-legendary pyrotechnical display that erupted that crazy evening on July 13th? Touted as "The Greatest Finals, Ever," all of DL Nation knows by now what transpired that fateful evening; but the recent DVD release of "Dreamleague Summer 2006 Finals: The Director's Cut" reveals some fascinating behind-the-scenes action and dialogue we (the general public) were not privy to until now:

Has Nazar ever been pinned?


Scene: It's the winner-take-all game of the NL finals. Score is tied with 7 seconds left on the clock…the indomitable lion, Tony Hu, battles his way through the Ghee Unit towers and grabs an offensive rebound. But wait, a phantom over-the-back foul is called on Ghee's Arif Ansari. Ghee Unit and their fans are outraged, for their team is over the limit…and Tony's warrior spirit has not only been kindled, it is a pure conflagration at this point. The same could be said for Big George Chan, who is heard off camera proclaiming "He don't miss those! He don't miss those!" And sure enough, the camera follows Tony, with ice water in his veins, to the free throw line. As he sets himself for the first one, the scene cuts away to an earlier interview, conducted in Las Vegas, with Tony Hu at the Stratosphere Buffet, as he quietly and humbly describes his experiences as a Marine in his tour of duty in Iraq…we come to understand why basketball pressure isn't a big deal for Tony…cut back to the game, and Tony sure enough cans both free throws. But wait, we all know what happens next…with three seconds left on the clock, Desi hoops legend Nik Nayak pulls off the unthinkable, taking the inbounds and dribbling to midcourt hell-bent before launching a pure 47-footer as the buzzer sounds, and the camera freezes on the closeup of the ball ripping through the net, the sound echoing over and over again as the crowd goes insane…Arif Ansari is then shown jumping up (and getting at least the Princeton local white pages' worth of air beneath his kicks) and down screaming "He don't miss those! He don't miss those!" Screen fades to black.

The three months since that glorious moment in Ghee Unit history has been equally shocking in the rapidity of this franchise's downturn. Player turnover and chemistry issues led them to a 0-7 start that had league pundits and oddsmakers shaking their heads. Not that this reporter has a seriously uncontrollable gambling problem or anything, but let's say that a few…ahem…friendly wagers this season on Ghee Unit "sure thing bets" have resulted in my laptop being pawned off and I'm writing this article on an old Commodore 64 "computer" with exposed wiring and OUCH! Sung-Mo and Mikey O, if you guys are reading this, willya call off the GenX and Moe's Tavern goons already, I'm good for the cash, ok? Just need a couple days and the proceeds from my, er, real estate deal will be available. I just need a little more time, OK? You know how disturbing it is to see Herbie "Brass Knuckles" Tam and Paul "Crazy 88" Ohshima following me around the streets of Princeton? This is a nice town, we don't need that element here in Jersey.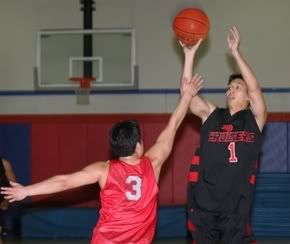 Does CB ever miss?


Anyhow I digress. What about the Cruisers, you ask? Simply put, they took the shocking defeat in stride and have since rolled off a 7-1 season en route to an anticipated #1 seed for the playoffs. Even with Tony Hu's injured shoulder and Stan Yeung's newfound love for his AAA franchise, Picked Last in PE, the Cruisers haven't missed a beat. CB Liu is having perhaps his best season ever (shooting a jaw-dropping 47% from the field), big George Chan is absolutely dominating the paint and averaging a double-double, and the reserves (led by the best pure athlete in the league, Mika Ohiorhenuan) comprise the best bench around.

And that was the backdrop to the second rematch between these two teams since the finals. To this point, it had been divergent destinies since that fateful day…would Ghee Unit revive its dominance with an upset victory, or would the Cruiser machine continue its destruction of all foes in its path?

The opening quarter, as is often the case, was inconclusive as both teams seemed to execute its half-court offense decently. Tony Hu got to work immediately with a couple of tough, strong moves to the basket and finished off contested short-range shots. Ghee Unit's new outside specialist, Amir "Big Arc" Chima rained in a three but was answered with a crazy Quincy Tso bank three (from the corner no less, how did that happen?). CB Liu was misfiring early, but George Chan hit a short jumper feed from his erstwhile shooting guard. Big Brontosaurus Arif Ansari, playing his second game of the night, muscled in for an offensive rebound putback and zonebuster Nazar Khan hit one of his patented 15-footers, but then CB heated up with a stop-and-pop, followed by an open three resulting from great Cruiser ball movement. Thanks to CB's late mini-outburst, 16-10 Cruisers; a competitive quarter and the murmuring in the stands said it all: were we in for another tight finish?

Who says CB don't do D?


Well, no. In the second quarter, the Cruisers did their Kenny Rogers impression, perhaps put a little bit of pine tar on their shooting hands and shut out – SHUT OUT – Ghee Unit. It was the CB show as he hit a three, two other long jumpers, a tough twisting layup around Varun Bhartiya, and even a short chippie off a well-executed inbounds play in which George Chan acted as a decoy. Meanwhile Ghee Unit was completely out of sorts, making turnovers, taking rushed shots, total disarray. A timeout to settle the situation would have been wise, but it never happened. George Chan finished off the quarter with a short putback and the score was 28-10 at halftime.

In the third, Ghee showed some signs of life, outscoring the Cruisers 19-10. Vic Bhartiya started things off with a steal and quick running layup, and the 10-minute drought was over. Then the monsoon rains came in a hurry, with another Bhartiya putback off a Punit Menda miss, a sweet three from Chima from the top of the key, and a seemingly effortless jumper from Nazar Khan from the free throw line. After giving up a tough layup to Quincy Tso and a short jumper from Chan, The Unit got a fundamental post move from Ansari, and after Mika Ohiorhenuan crossed himself over (too athletic for his own good?), Punit Menda scooped up the loose ball and soared in for a layup. After a CB finish off a fastbreak, Chima and Rock Reddy hit consecutive threes to cut the Cruiser lead to a mere 10. In the last two minutes of the half, Ghee Unit had three chances to cut it to single digits but the Cruisers defense held. 39-29 at the end of the third.

Despite a little early 4th quarter magic from Ghee's color-clashing point guard Mike Owh, who took advantage of his natural camouflage to sneak his way into Cruiser territory to grab an offensive rebound and stick the putback, the Cruiser bigs stepped up and essentially salted this one away. Tony Hu snared an offensive rebound and scored it, then led the fastbreak and threaded a pass to Garry Yeung for a layup. Then George got busy with a couple of tough moves in the paint, before Tony took over again. You get the picture. Despite an NBA-range three from Amir Chima, and another one from Varun Bhartiya, the Cruisers, well, cruised to a 63-48 win.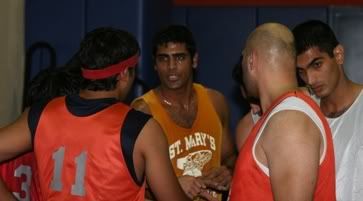 Varun, "Rock, that headband looks ridiculous."


The loss for Ghee Unit ended their mini-resurgence, snapping a modest two-game winning streak and perhaps introducing a little more doubt about their playoff run. Nonetheless they will be the world's scariest 7th or 8th seed ever. In this game, Amir Chima took top scoring honors with 15 on 5-8 shooting from beyond the arc, while Varun Bhartiya posted 11. Ghee plays the scheduler's oddity tenth game of the season against the Renegades on Wednesday night, with interesting playoff implications: unofficially, a win would raise them to the #7 seed and a home-and-home rematch with the #2 Renegades, whereas a loss gives them an 8-9 play-in game against Philosokicks, with the #1 Cruisers waiting on the winner.

The win - and two game sweept of Ghee this season - for the Cruisers probably helped ease the sting of the championship loss slightly, but obviously Coach Rob Lee and the men in black won't be satisfied unless they hoist that championship trophy in December. Another day in the office for the sublime CB Liu with 23 points, while George Chan continues his excellent play this season with 13 points, 12 rebounds, 2 assists, 3 steals and 3 blocked shots.
Score by Quarters
| Team | Q1 | Q2 | Q3 | Q4 | OT | Total |
| --- | --- | --- | --- | --- | --- | --- |
| Homecrest Cruisers | 16 | 12 | 11 | 24 | - | 63 |
| Ghee Unit | 10 | 0 | 19 | 19 | - | 48 |
Boxscore
Homecrest Cruisers - 63
Player
FG
3PT
FT
REB
AST
STL
BLK
TO
F
PTS
Chan, David
DNP
Chan, George
6 / 8 [0.750]
0 / 0 [0.000]
1 / 6 [0.167]
12
2
3
3
3
5
13
Cheng, David
DNP
Cheung, Warren
0 / 1 [0.000]
0 / 0 [0.000]
0 / 0 [0.000]
5
1
1
0
1
0
0
Hu, Tony
5 / 7 [0.714]
0 / 0 [0.000]
3 / 7 [0.429]
8
3
0
0
4
4
13
Liu, CB
9 / 21 [0.429]
4 / 10 [0.400]
1 / 2 [0.500]
3
2
1
0
1
2
23
Ohiorhenuan, Mika
1 / 3 [0.333]
0 / 1 [0.000]
1 / 2 [0.500]
6
2
1
0
4
0
3
Tso, Quincy
3 / 7 [0.429]
1 / 3 [0.333]
0 / 0 [0.000]
3
1
0
0
1
2
7
Yeung, Gary
2 / 7 [0.286]
0 / 0 [0.000]
0 / 0 [0.000]
4
0
0
0
3
0
4
Yeung, Stan
DNP
26 / 54 [0.481]
5 / 14 [0.357]
6 / 17 [0.353]
41
11
6
3
17
13
63
Ghee Unit - 48
Player
FG
3PT
FT
REB
AST
STL
BLK
TO
F
PTS
Ansari, Arif
3 / 9 [0.333]
0 / 0 [0.000]
0 / 0 [0.000]
7
0
0
0
0
3
6
Chima, Amir
5 / 12 [0.417]
5 / 8 [0.625]
0 / 0 [0.000]
0
1
0
0
0
0
15
Chintha, Daniel
DNP
Chothi, Sunil-Mo
DNP
Ghumman, Mo
DNP
Govani, Aly
DNP
Hoque, Mo
DNP
Jhaveri, Nihar
DNP
Khan, Manoj
DNP
Khan, Nazar
3 / 11 [0.273]
0 / 0 [0.000]
1 / 2 [0.500]
6
0
1
1
2
0
7
Manocha, Varun
4 / 9 [0.444]
1 / 3 [0.333]
2 / 6 [0.333]
5
1
1
1
2
5
11
Menda, Punit
1 / 8 [0.125]
0 / 2 [0.000]
0 / 0 [0.000]
6
7
1
1
2
2
2
Momin, Shaheed
DNP
Nausrudeen, Usama
DNP
Owh, Mike
2 / 4 [0.500]
0 / 2 [0.000]
0 / 0 [0.000]
3
2
0
0
4
0
4
Reddy, Rock
1 / 8 [0.125]
1 / 3 [0.333]
0 / 0 [0.000]
6
0
0
0
2
1
3
Singh, Eke
DNP
Tewary, Akshat
DNP
19 / 61 [0.311]
7 / 18 [0.389]
3 / 8 [0.375]
33
11
3
3
12
11
48
Referees