info(at)dreamleague(dot)org

---

facebook | twitter

---

New site!!!: DRMLG.ORG
DREAMLEAGUE HOME
Poor Man's Commish
SEASON HOME
SCHEDULE/SCORES
STANDINGS/TEAMS
PLAYER STATS

RULES & REGULATIONS
ABOUT US

REGISTRATION

DONATE

ONLINE WAIVER

HELP/COMMENTS


---

2010 Fall Saturdays in SF (9/18-11/6)

---

2010 Fall Bay Area Sundays (9/19-12/19)

---

2010 Summer Bay Area season (6/6 thru 9/12)

---

2010 Summer NYC AAA

---


SUMMER VEGAS TOURNEYS
ELITE/6FT+1/Masters/INT
Sep 11-12, 2010 - SIGNUP!!

---

HAITI RELIEF
Donate $10 text HAITI to 90999

---

Support Jeremy Lin! Harvard at Columbia (NYC) 1/29/2010

---


NYC TOURNEY - 2008 results

---


2009 GOLDRUSH INFO

---

2011 LA Showcase SIGNUP!
2010 LA Showcase results



---

---

New site!!!: DRMLG.ORG
DREAMLEAGUE HOME
Poor Man's Commish
SEASON HOME
SCHEDULE/SCORES
STANDINGS/TEAMS
PLAYER STATS

RULES & REGULATIONS
ABOUT US

REGISTRATION

DONATE

ONLINE WAIVER

HELP/COMMENTS

6 Feet Under 46, A Ball 43
6FU, Kuet, Knocks Out A Ball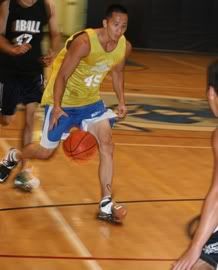 Drago drives the lane.


August 19, 2006 - Brooklyn, NY (DL) - In Rocky IV, Rocky Balboa, played by the venerable and much botoxed Sylvester Stallone, fights Ivan Drago, played by Dolph Lundgren. The premise of the fight is Drago's devastating bout against onetime Rocky foe, now friend, Apollo Creed (who is played by the awesome Carl Weathers), in which Drago knocks out Creed so bad, it kills him. Against the backdrop of the Cold War, it falls to Rocky to avenge Apollo on Soviet soil. With nary a soul helping him and the most primitive training materials to get himself in shape, Rocky fights the almost superhuman Drago. By the end of the fight, due to his dogged work ethic and fighting spirit, Rocky wins over the Commie crowd and, eventually, the fight, ending the bout with a plea for peace for the ages.

As some of you may know, the League has an Ivan Drago of its own. With a physique identical to that of the Soviet Sledgehammer, 6 Feet Under's Leighton Kuet is a cinch as a body double for Lundgren. But add to that Rocky's spirit (Kuet recently fractured his face, but insists on playing through the injury without a mask) and sense of timing, and you got something. That something was in full view of League fans as Kuet hit two HUGE three-pointers at the end of the game to give 6FU a 46-43 victory over A Ball.

Dru beats Yiin this but loses game.


Like an even heavyweight fight, A Ball and 6FU traded blows and baskets throughout the contest. The first quarter was 6FU's as Kuet hit for 6 points and 6FU led 10-4. A Ball rebounded in the second under the stewardship of Drew Chen, who hit two quick jumpers and assisted on another basket to bring A Ball to within 4 points, 18-14. The highlight of the first half, though, went to Steven Tanamachi, who had a twirling, spinning layup before his man even knew what was happening.

Tanamachi continued to leave his mark, with a sweet dish to Roberto Ko in the third quarter, which was immediately followed by a similar dime to Ko from Kuet. And even though Chen tried his best to bring his team back, with a three-pointer here and a drive to the basket there, he could only keep them on an even plane, down 4 points after three quarters, 27-23.

The two teams saved their haymakers for the final stanza as they combined for 39 points (after combining for 50 through three quarters). A Chen layup was A Ball's first jab. Tanamachi jabbed back with a drive of his own. A Brent Morita jumper was A Ball's left hook. Then after dodging a 6FU punch, A Ball's Mark Kiang found Nihar Jhaveri, who delivered an uppercut to tie the game at 29.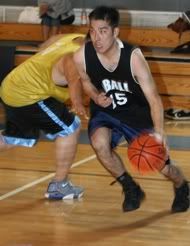 Does Brent even read these articles?


6FU answered back with two body blows (jumpers) by Kuet. But Wii Yatani brought out the big guns with a three-pointer to make it 33-32, a one-point lead for 6FU. After a Mark Yiin free throw, Wii again hit from downtown (an uppercut to the chin?), giving A Ball its first lead of the game. That lead was short-lived as Yiin hit a shot from 15-feet to make it 36-35. A Chris Kim post move made it 36-37. Then, in what could have been the critical play of the game, Karl Ngok got called for an offensive foul, running into Kiang.

With under 2 minutes left, the momentum was on A Ball's side. The blow-by-blow fight had morphed into a one-sided match. Chen's lefty drive acted as a hard left hook, 39-36 A Ball. Then Yatani, who was the hero of the fourth quarter for A Ball, drove hard, made the layup and drew the foul. By making the layup, but missing the free throw, Yatani put A Ball up 41-36, and finally one team hit the mat.

However, with about a minute still to play, 6FU was not knocked out. Instead, more desperate than ever, 6FU made a more dangerous opponent. That much was obvious when Kuet drew a foul of his own and nailed both shots. Then the man who shifted the big mo in the first place, Ngok, fought back and made himself open for a layup. Just like that, with less than a minute remaining, 6FU was down only 1 point, 41-40. With 40.6 left, Chen's free throw made it a two-point lead for A Ball, 42-40.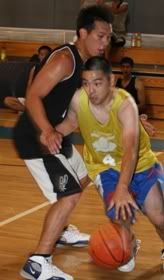 Steve Tanamachi needs a tan muchi.


6FU knew who they needed to go to. Kuet, the man who had been battling all day, dribbled at the top of the key with Kiang right in his fractured face. Yo-yoing the ball for what seemed like eternity, Kuet subtly shifted his weight, then when he saw Kiang's weight shift, just launched himself straight up for a long three-pointer. Kiang could only look on in disbelief as the ball softly swished through the net. That gave the lead back to 6FU, 43-42.

But Kiang wasn't done either. This was a fight in which both teams would leave bloody, if need be, because they were not about give up. Kiang drew a foul with less than 10 seconds and had a chance to put his team on top. Instead, he did the next best thing, tying the game up at 43. As it turned out, his free throws would not matter at all.

Why? Because Kuet had a knockout punch ready in his belt. Kuet got the ball on the weakside wing, outside of the three-point line and found himself surrounded by three players with their hands in the air, playing great defense. Because Kuet looked at the clock, looked inside himself, and jumped higher than anyone should rightly be able to jump, then let go a prayer. And that prayer was answered with a bank and a swish. Three points. 46-43. 6FU wins.

Kuet provided the big punches for 6FU with 21 points and had some backup in Yiin, who ended the day with 8 points.

Chen led A Ball with 14 points and Yatani chipped in with a clutch 10 points, 8 of which came in the fourth.

Somewhere, Sly Stallone is grinning at his Chinese protege.


Yiin makes his Mark.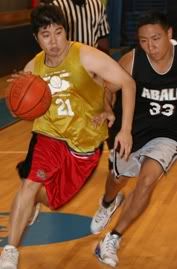 Simon Huang is "locked in."
Million dollar move with a 2 cent finish.
Score by Quarters
| Team | Q1 | Q2 | Q3 | Q4 | OT | Total |
| --- | --- | --- | --- | --- | --- | --- |
| 6 Feet Under | 10 | 8 | 9 | 19 | - | 46 |
| A Ball | 4 | 10 | 9 | 20 | - | 43 |
Boxscore
6 Feet Under - 46
Player
FG
3PT
FT
REB
AST
STL
BLK
TO
F
PTS
Chang, Eugene
DNP
Choi, Steven
0 / 2 [0.000]
0 / 0 [0.000]
0 / 0 [0.000]
0
0
0
0
4
4
0
Huang, Simon
1 / 4 [0.250]
1 / 4 [0.250]
0 / 0 [0.000]
2
0
1
0
1
2
3
Ko, Roberto
3 / 8 [0.375]
0 / 0 [0.000]
0 / 0 [0.000]
4
0
1
0
2
1
6
Kuet, Leighton
7 / 14 [0.500]
2 / 4 [0.500]
5 / 6 [0.833]
4
3
1
1
5
1
21
Lee, Jeff
1 / 3 [0.333]
0 / 1 [0.000]
0 / 0 [0.000]
0
0
2
0
2
0
2
Ngok, Karl
1 / 3 [0.333]
0 / 0 [0.000]
0 / 0 [0.000]
5
2
1
1
1
5
2
Tanamachi, Steve
2 / 2 [1.000]
0 / 0 [0.000]
0 / 0 [0.000]
2
2
2
0
1
0
4
Yen, Joe
DNP
Yiin, Mark
3 / 10 [0.300]
0 / 1 [0.000]
2 / 4 [0.500]
2
0
0
2
1
0
8
18 / 46 [0.391]
3 / 10 [0.300]
7 / 10 [0.700]
19
7
8
4
17
13
46
A Ball - 43
Player
FG
3PT
FT
REB
AST
STL
BLK
TO
F
PTS
Chen, Andrew
6 / 10 [0.600]
1 / 2 [0.500]
1 / 4 [0.250]
5
1
2
0
2
1
14
Chin, Danny
1 / 8 [0.125]
0 / 3 [0.000]
0 / 0 [0.000]
2
0
0
0
1
0
2
Han, Danny
2 / 2 [1.000]
0 / 0 [0.000]
0 / 0 [0.000]
1
2
2
0
2
0
4
Hwang, Jae Ha
0 / 0 [0.000]
0 / 0 [0.000]
0 / 0 [0.000]
1
0
0
0
0
0
0
Jhaveri, Nihar
2 / 4 [0.500]
0 / 1 [0.000]
0 / 0 [0.000]
2
0
1
0
1
2
4
Kiang, Mark
2 / 8 [0.250]
0 / 0 [0.000]
1 / 2 [0.500]
6
3
4
0
4
3
5
Kim, Chris
1 / 1 [1.000]
0 / 0 [0.000]
0 / 0 [0.000]
1
1
0
0
0
2
2
Morita, Brent
1 / 6 [0.167]
0 / 1 [0.000]
0 / 2 [0.000]
1
1
2
0
1
2
2
So, Andy
DNP
Yatani, Wii
4 / 9 [0.444]
2 / 6 [0.333]
0 / 1 [0.000]
2
0
2
0
2
0
10
19 / 48 [0.396]
3 / 13 [0.231]
2 / 9 [0.222]
21
8
13
0
13
10
43
Referees