info(at)dreamleague(dot)org

---

facebook | twitter

---

New site!!!: DRMLG.ORG
DREAMLEAGUE HOME
Poor Man's Commish
SEASON HOME
SCHEDULE/SCORES
STANDINGS/TEAMS
PLAYER STATS

RULES & REGULATIONS
ABOUT US

REGISTRATION

DONATE

ONLINE WAIVER

HELP/COMMENTS


---

2010 Fall Saturdays in SF (9/18-11/6)

---

2010 Fall Bay Area Sundays (9/19-12/19)

---

2010 Summer Bay Area season (6/6 thru 9/12)

---

2010 Summer NYC AAA

---


SUMMER VEGAS TOURNEYS
ELITE/6FT+1/Masters/INT
Sep 11-12, 2010 - SIGNUP!!

---

HAITI RELIEF
Donate $10 text HAITI to 90999

---

Support Jeremy Lin! Harvard at Columbia (NYC) 1/29/2010

---


NYC TOURNEY - 2008 results

---


2009 GOLDRUSH INFO

---

2011 LA Showcase SIGNUP!
2010 LA Showcase results



---

---

New site!!!: DRMLG.ORG
DREAMLEAGUE HOME
Poor Man's Commish
SEASON HOME
SCHEDULE/SCORES
STANDINGS/TEAMS
PLAYER STATS

RULES & REGULATIONS
ABOUT US

REGISTRATION

DONATE

ONLINE WAIVER

HELP/COMMENTS

Da Bien 51, Homecrest Cruisers 49
Borbo Pops Off to Key Da Bien Comeback
G-Chan posts V-Tang.


September 6, 2006 – Brooklyn, NY (DL) – How do you survive a 20 rebound deficit for the game?

Have a Borbo!

How do you live through a 1/14 2nd quarter?

Have a Borbo!

How do you deal with the game's best duo of big boys AND top 3-point shooter?

Have a Borbo!

Man, Da Bien – Homecrest, it doesn't get any better than that, does it?

Well, this season, more than any other season, one could just about say that for any match-up in the NL. The competition is undoubtedly at an all-time high. Eyebrows are raised as to what's going on over in the Ghee Unit camp, but that's neither here nor there – a story for some other time, some other place.

On this night, on the hardwood at the joint out in Crooklyn, this clash was about the powers who be in the NL going at it one more time.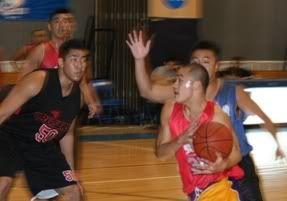 Kenny Yu had a tough day at the office.


And just like the finals series from two seasons ago when Da Bien first knocked out Homecrest to force a decisive second game that Homecrest won, no one wanted this one to end. In fact, if we could have pushed off the second and third games of the night, we would have given 12 quarters (and possibly more) for these two to play.

The 1st quarter was every bit worthy of what one could expect of this game as Homecrest used 6 points from CB Liu and 4 points from George Chan to take a 12-11 lead that was only that close after Rick Wong hit a big corner pocket triple off a Joe Liu (4 points himself) dish for Da Bien.

After a 3 second quarter change-over, the roof caved in for Da Bien.

Shawn De Los Reyes got a lay-up to tie the game at 16, but the Cruisers broke out on a 10-1 run to end the half that CB dropped in 7 of.

The 26-17 lead at half for Homecrest was made possible by active defense that took Da Bien out of their element. In particular, forward Victor Tang and guard Kenny Yu, two decorated players with endless years of basketball experience, looked as if they weren't quite sure of what to do with the ball.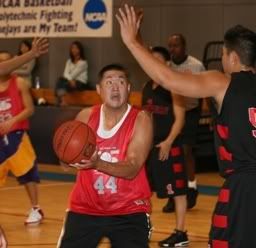 Joe Liu is a man in the middle.


The two went a combined 0-10 in the first half and De Los Reyes' lay-up in the 2nd was the team's lone field goal in the entire frame.

It's not that often you'll see a team come back from a quarter like that on a team with Chan and Tony Hu – 2 big men whom will pound you to death and wear you out – and CB, the sharpshooter who is currently leading the League in scoring and 3-point percentage.

With these three guys, and a 9 point lead, the ball game is usually over.

But then, that's without a Borbo!

Like an energy drink (Borbo would be a great name for one), Da Bien's version of Steve Kerr popped open in the 3rd quarter and single-handedly brought Da Bien back from the dead.

Following a De Los Reyes' rebound put-back, Borbo hit a trio of threes, the last coming off an "assist" from Hu.

Hu, who plays for the other team, grabbed a rebound and looked to outlet the ball. Instead of finding a teammate, he found an open Borbo who intercepted the ball and knocked down a straightway three to tie the score suddenly at 28. With the pass seeming to have gone straight to Borbo, it was as if Hu was a fan like us and wanted to see if he could hit another one.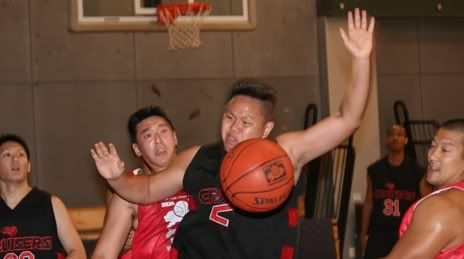 T-Hu gets stripped.


He could and with that, this game was right back on and we flew through the 3rd with both sides hopping back and forth with the lead.

Chan, who was collecting rebounds on this night like the sanitation department does trash, with a post. De Los Reyes with a knife through the lane as he fell. Yu with his lone basket of the game on the break. CB with another trey. Sol Choe with an up and under. 36-35, Da Bien, at the end of three.

By early in the 4th quarter Chan had already snared 18 rebounds and was well on pace to surpass Brian Liang's all-time DLNY record of 27 he had two seasons ago for California Love. The way caroms were going into his mitts, it seemed like he had magnets that sucked the rock in.

But, as his boarding prowess slowed (cause Da Bien wasn't going 1/14 anymore), so too did Homecrest's once seemingly solid stranglehold on this game. That ended in the 3rd, but even with De Los Reyes picking up his 5th personal early in the 4th, Homecrest couldn't get their groove back.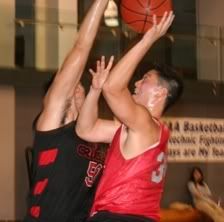 Tang was tangy on this shot.


Da Bien jumped ahead by 5 on two baskets to start the 4th and Homecrest worked diligently through the free throw line to keep the game close (17/25 for the game), but Tang finally remembered how the game was played and went nuts with three straight baskets to put Da Bien up 7 with 3 minutes to go.

Mika Ohiorhenuan quickly struck back with a pair of scores inside, but Tang (10 points) then, with all the attention on his hot hand, sliced a beaut of a pass to a cutting MVP (that would be SDR) for the hoop and the harm with a minute left.

Hu, who was held in check with just 6 points (and 11 boards), put in a miss but then missed a tough try with 23.6 ticks remaining that gave the ball back to Da Bien and put Borbo at the line.

Have a Borbo?

Halved the free throws, he did.

Borbo (10 points) made one of two for a seemingly decent 50-46 lead that became undecent with a stop and pop from NBA distance 3 by CB (21 points) with 10 seconds.

The lead was just one, but then Hu fouled out on the subsequent play that put De Los Reyes (13 points, 5 boards, 3 assists) at the line.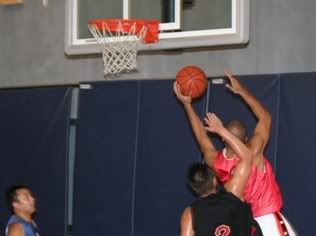 SDR slices and dices.


With his back in pain (Hu's foul had left him writhing on the floor), the 40% free throw shooter went 50% and that was good enough for the 51-49 win as Homecrest's final look to send the game into overtime went awry as Chan missed a tough turnaround with 2.6 seconds and Ohiorhenuan missed a last gasp look after the Cruisers maintained possession after Chan's miss.

Just like that, no more undefeateds in the NL. Wild.

The final moments of the game were indeed wild. Chan's near record setting performance (he wound up with 12 points and 20 boards) was wild. The Cruisers 24 turnovers (to Da Bien's 12) proved that they, as a team, were wild. Da Bien's captain Jeff Tu's statement, "I'm liking this line-up!" as neither he nor SDR were in the game during key moments in the 4th was wild.

How do you celebrate wildness?

Have a Borbo!
Score by Quarters
| Team | Q1 | Q2 | Q3 | Q4 | OT | Total |
| --- | --- | --- | --- | --- | --- | --- |
| Homecrest Cruisers | 12 | 14 | 9 | 14 | - | 49 |
| Da Bien | 11 | 6 | 19 | 15 | - | 51 |
Boxscore
Homecrest Cruisers - 49
Player
FG
3PT
FT
REB
AST
STL
BLK
TO
F
PTS
Chan, David
DNP
Chan, George
5 / 14 [0.357]
0 / 0 [0.000]
2 / 5 [0.400]
20
2
1
0
1
5
12
Cheng, David
0 / 2 [0.000]
0 / 2 [0.000]
2 / 2 [1.000]
1
1
0
0
2
0
2
Cheung, Warren
0 / 1 [0.000]
0 / 1 [0.000]
0 / 0 [0.000]
1
0
0
0
3
1
0
Hu, Tony
2 / 9 [0.222]
0 / 0 [0.000]
2 / 2 [1.000]
11
1
1
0
5
6
6
Liu, CB
5 / 11 [0.455]
4 / 8 [0.500]
7 / 8 [0.875]
1
1
0
0
4
1
21
Ohiorhenuan, Mika
2 / 5 [0.400]
0 / 1 [0.000]
2 / 4 [0.500]
5
0
1
1
1
2
6
Tso, Quincy
0 / 3 [0.000]
0 / 3 [0.000]
2 / 4 [0.500]
4
1
1
0
6
2
2
Yeung, Gary
0 / 1 [0.000]
0 / 0 [0.000]
0 / 0 [0.000]
0
0
0
0
2
0
0
Yeung, Stan
DNP
14 / 46 [0.304]
4 / 15 [0.267]
17 / 25 [0.680]
43
6
4
1
24
17
49
Da Bien - 51
Player
FG
3PT
FT
REB
AST
STL
BLK
TO
F
PTS
Baptista, Romeo
DNP
Borbo, Virgilio
3 / 4 [0.750]
3 / 4 [0.750]
1 / 2 [0.500]
1
1
1
0
0
3
10
Chan, Ed
0 / 2 [0.000]
0 / 0 [0.000]
0 / 0 [0.000]
1
0
1
0
1
2
0
Chin, Kevin
DNP
Choe, Sol
1 / 8 [0.125]
0 / 4 [0.000]
3 / 6 [0.500]
1
2
1
0
0
1
5
De Los Reyes, Shawn
6 / 9 [0.667]
0 / 1 [0.000]
1 / 3 [0.333]
5
3
0
1
2
5
13
Gong, Steven
DNP
Liu, Joe
3 / 6 [0.500]
0 / 0 [0.000]
0 / 0 [0.000]
6
2
3
0
5
0
6
Tang, Victor
4 / 13 [0.308]
0 / 0 [0.000]
2 / 2 [1.000]
2
1
1
2
2
0
10
Tu, Jeff
0 / 0 [0.000]
0 / 0 [0.000]
0 / 0 [0.000]
0
0
0
0
0
2
0
Wong, Rick (dup)
1 / 5 [0.200]
1 / 4 [0.250]
0 / 0 [0.000]
3
0
3
0
0
2
3
Yu, Kenny
1 / 9 [0.111]
0 / 3 [0.000]
2 / 2 [1.000]
4
3
2
0
2
3
4
19 / 56 [0.339]
4 / 16 [0.250]
9 / 15 [0.600]
23
12
12
3
12
18
51
Referees