info(at)dreamleague(dot)org

---

facebook | twitter

---

New site!!!: DRMLG.ORG
DREAMLEAGUE HOME
Poor Man's Commish
SEASON HOME
SCHEDULE/SCORES
STANDINGS/TEAMS
PLAYER STATS

RULES & REGULATIONS
ABOUT US

REGISTRATION

DONATE

ONLINE WAIVER

HELP/COMMENTS


---

2010 Fall Saturdays in SF (9/18-11/6)

---

2010 Fall Bay Area Sundays (9/19-12/19)

---

2010 Summer Bay Area season (6/6 thru 9/12)

---

2010 Summer NYC AAA

---


SUMMER VEGAS TOURNEYS
ELITE/6FT+1/Masters/INT
Sep 11-12, 2010 - SIGNUP!!

---

HAITI RELIEF
Donate $10 text HAITI to 90999

---

Support Jeremy Lin! Harvard at Columbia (NYC) 1/29/2010

---


NYC TOURNEY - 2008 results

---


2009 GOLDRUSH INFO

---

2011 LA Showcase SIGNUP!
2010 LA Showcase results



---

---

New site!!!: DRMLG.ORG
DREAMLEAGUE HOME
Poor Man's Commish
SEASON HOME
SCHEDULE/SCORES
STANDINGS/TEAMS
PLAYER STATS

RULES & REGULATIONS
ABOUT US

REGISTRATION

DONATE

ONLINE WAIVER

HELP/COMMENTS

Homecrest Cruisers 50, Gen X 45
No Hu, No Stan? No Problem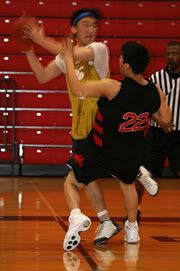 Scho walks the line.


June 22, 2006 - New York, NY (DL) - I just want to note that while I'm viewing these games on my iPod – and they've happened in the past – I have no idea when I start watching them how they are going to play out.

I purposely stayed away from my phone, the internet, or any human interaction over the course of the 10 days in which these four games took place.

Needless to say, it was a lonely existence for awhile.

I do what I need to for my job, however, and if being without those things is what it takes, then so be it. It's why I make the big bucks. (Yeah, right.)

Next on my list is a Round 3 match-up featuring Gen X and the Homecrest Cruisers. I just saw Gen X take apart Tri-State and Homecrest had fended off a game California Love prior to getting here to get a golden chance at revenge.

There is a single stain in Homecrest's regular season record. They're 11-1 and that "1" came courtesy of a 67-45 pummeling Gen X laid on Homecrest back in early May when George Chan, Tony Hu, and CB Liu were all missing from the Cruisers' line-up due to injuries or work reasons.

George Chan was actually missing twice that game – G. Chan of Gen X was also out of action then – and George Chan would be missing once in this game. Again, G. Chan, the human fashion faux pas for Gen X, would not find his way to the Baruch Arena.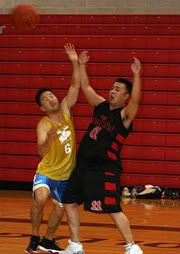 Q needs glue on his hands.


But his disappearing act was hardly noticed as a) Gen X has not been used to him showing up for games regularly and b) there was once again a main man missing on the Homecrest side that overshadowed everything (and not to mention his main sidekick who has set him up many a time and whom many consider to be Homecrest's real MVP.)

It just wasn't in Tony Hu's destiny to ever face Gen X this season.

Incredulously opting to participate in the JP Morgan Corporate Challenge run instead of lacing up his Nikes, Hu once again missed out on his opportunity of mixing it up with Brandon Chock and company and left his team on their own to fend for themselves.

Last time, doing it without CB and G. Chan proved to be impossible as Chock had a field day inside and Dennis Yang out.

This time, Chock would still do as he pleased for the most part, but D-Yang would agree he's probably seen better days.

CB and G. Chan were present, but in addition to no Hu, there was no point guard Stan Yeung, the force behind the Cruiser attack and no small reason the defending champs had actually gotten better tenfold this season.

Go, Scho, go.


Where he was, no one will ever really know, but if Gen X was going to win a game against Homecrest again – and this time a playoff game at that – with Homecrest coming short of their best, you would not find Gen X complaining about it.

I fast-forwarded through the first 3 minutes of the game as absolutely nothing happened. It seemed that Gen X, with just 5 men, and Homecrest, without their point to set things up, both were waiting for the game to come to them instead of playing the aggressor.

Finally, Chock got Gen X on the board to start the scoring and before long it was 7-0, Gen X, as Yang got a drive and Paul Ohshima fed Sung Mo Cho for a three ball.

It was clear that without Hu and Yeung, the task of winning would not be easy for Homecrest.

Especially not after Ohshima and Yang exchanged turns dishing to each other for two more 3's before the quarter's end that left Gen X atop 13-5.

1st Team All Dream Leaguers.


As quickly as Gen X got up though, they gave it back in the 2nd.

The iron became unkind, the ball movement less swift, and the Cruisers started to awake as Quincy Tso finished a drive and CB stuck a 3 and split defenders on a lay-up before Garry Yeung scored off a turnover to pull Homecrest within 19-18 at the break.

Easy come, easy go.

No Hu nor Stan, no easy go.

This game film became increasingly interesting to watch (I didn't find myself fast-forwarding anything after the opening minutes) in the 3rd as Gen X, expected to ultimately fade, stood their ground.

Rob Schopen opened the half with a trey and on the strength of 8 Chock points (17 points, 10 boards in total) and his harassing defense on G. Chan, Gen X didn't give into a Cruiser rush.

Mika Ohiorhenuan scored 8 points himself in the quarter on a flurry of athletic moves, but each time Gen X had an answer.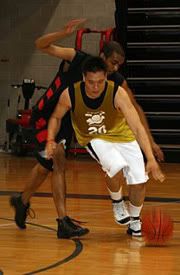 His MO is to pick Cho.


If it wasn't a Yang bank from straightaway, it was a Cho three. Whatever it was, it added up to a narrow 35-33 Gen X lead into the 4th – a position that Gen X couldn't be too terribly upset about.

What they may have been upset about was the fact that Ohshima was carrying 5 fouls with him at the start of the 4th. With not a single sub, this would mean the defensive stalwart (who barely missed out on the All-Defensive Team again this season due to incredible seasons by guards Danny Han of A Ball and John Ryu of Derelicte) would have to ease up on his defensive tenacity, something that is not programmed into his DNA.

Because Ohshima and Gen X have been caught on their heels a bit, after trailing for 24 of the 27 minutes of the game to this point (no one scored in the first 3 minutes), Homecrest was able to finally tie the game at the start of the 4th and then take their first lead behind two Ohiorhenuan (16 points, 3 steals) scores in transition.

Mika was quietly taking over the game and, as a result, Homecrest was doing the same.

Yang popped to tie the game at 37 all, but from there on out, Gen X did what the doubters believe they'd do, and ultimately ran out of gas. Yang, in particular, seemed spent as he finished with just 9 points on 4/14 shooting - a super subpar game for him.

Brawn & Brawnier.


Homecrest had too much gas as G. Chan, Garry, Mika, and CB all scored in succession before Gen X could counter with a Cho put-back to make it 45-39 with a couple minutes left, but Gen X had too much pride as Chock finished an and 1 and Schopen buried a dagger to suddenly close the gap to 47-45 with 1:20 left.

With 55 seconds left, Tso was whistled for a walk giving Gen X the chance to tie the game. Of course, that's the thought process if you're anyone but Rob Schopen.

The 3-point specialist launched a missile with 42 seconds left when his team only needed a two. Hey, glory to those with brass cajones, eh?

He missed, Ohshima snatched the board and missed a lay-up, and then to compound matters, CB (15 points, 4 boards) grabbed the board only to be fouled by Ohshima for PO's 6th and final personal with 13 seconds remaining.

I had to play that twice just to see what happened exactly as there was so much screaming on my end that I dropped the iPod repeatedly.

Gen X opted to run with 4 players on the court instead of keeping Ohshima on the court and award Homecrest a technical foul shot (as per League rules when you are faced with running with less than 5 when your fifth fouls out.)

Not your position, George.


CB kept hope alive for Gen X by splitting free throws in the bonus to leave Gen X down just 48-45.

After their final timeout and advancing the ball to half-court, Gen X ran an out of bounds play designed to find one of the 3-point shooters – basically anyone on the court but Chock – and who does the ball wind up in the hands of but the center?

While he's had a penchant of making buzzer beating 3's in the past, this time, Chock's attempt was not only ugly, but it was blocked by G. Chan (10 points, 14 boards) and secured by Homecrest, thus ending Gen X's shot at striking lightning twice upon an underhanded Homecrest in the same season.

I couldn't believe that with Yang, Cho (10 points), and Schopen in the game that Chock wound up with the ball.

But then I realized that they had just 4 players, allowing Homecrest to easily double team two of those guys and keeping their last defender on the third guy who turned out to be Chock.

Why didn't Chock inbound the ball?

Why did Chris Webber call that time-out that Michigan didn't have?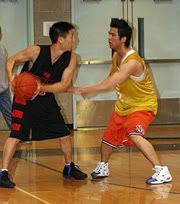 SF on NY.


We'll never know and it's too late to ask.

With the loss, Gen X drops to the loser's bracket and will face a resurgent Da Bien who has been looking sharp since their upset loss to A Ball.

Homecrest, meanwhile, can count their blessings yet again.

With the 50-45 win, they advance to the semifinals to face Ghee Unit, but this could have very well been the other way around without Hu and Stan in the mix.

Then again, Gen X did themselves no favors by showing up without a bench. And the Cruisers are still the defending champs with or without certain individuals showing up.

In this dog eat dog world, the name of the game is survive and advance.

Homecrest will berate Tony later, for now, they'll take this and move on.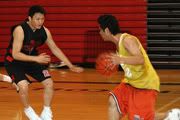 Throw two R's on the D!
Score by Quarters
| Team | Q1 | Q2 | Q3 | Q4 | OT | Total |
| --- | --- | --- | --- | --- | --- | --- |
| Gen X | 13 | 6 | 16 | 10 | - | 45 |
| Homecrest Cruisers | 5 | 13 | 15 | 17 | - | 50 |
Boxscore
Gen X - 45
Player
FG
3PT
FT
REB
AST
STL
BLK
TO
F
PTS
Chan, Donald
DNP
Chan, George
DNP
Chan, Mike
DNP
Chen, Mike
DNP
Cho, Sung-Mo (dup)
4 / 8 [0.500]
2 / 4 [0.500]
0 / 0 [0.000]
3
1
0
0
4
3
10
Chock, Brandon
7 / 17 [0.412]
0 / 1 [0.000]
3 / 4 [0.750]
10
0
0
0
3
3
17
Eng, Henry
DNP
Lee, Mike
DNP
Li, Len
DNP
Ohshima, Paul
1 / 6 [0.167]
1 / 2 [0.500]
0 / 0 [0.000]
7
5
0
1
2
6
3
Schopen, Robert
2 / 9 [0.222]
2 / 8 [0.250]
0 / 0 [0.000]
5
1
2
0
1
1
6
Yang, Dennis
4 / 14 [0.286]
1 / 5 [0.200]
0 / 0 [0.000]
4
3
2
0
3
2
9
Zheng, David
DNP
18 / 54 [0.333]
6 / 20 [0.300]
3 / 4 [0.750]
29
10
4
1
13
15
45
Homecrest Cruisers - 50
Player
FG
3PT
FT
REB
AST
STL
BLK
TO
F
PTS
Chan, David
DNP
Chan, George
5 / 11 [0.455]
0 / 0 [0.000]
0 / 0 [0.000]
14
0
2
1
1
2
10
Chan, Hiram
0 / 2 [0.000]
0 / 0 [0.000]
0 / 0 [0.000]
4
0
0
3
0
3
0
Cheng, David
DNP
Cheung, Warren
0 / 1 [0.000]
0 / 1 [0.000]
0 / 0 [0.000]
0
1
0
0
1
1
0
Hu, Tony
DNP
Kuet, Leighton
DNP
Liu, CB
5 / 12 [0.417]
2 / 7 [0.286]
3 / 5 [0.600]
4
2
2
0
2
2
15
Ohiorhenuan, Mika
7 / 17 [0.412]
0 / 2 [0.000]
2 / 4 [0.500]
5
1
3
1
2
2
16
Tso, Quincy
2 / 8 [0.250]
0 / 4 [0.000]
0 / 0 [0.000]
6
1
1
0
3
4
4
Yeung, Gary
2 / 4 [0.500]
0 / 1 [0.000]
1 / 2 [0.500]
2
1
0
0
1
1
5
Yeung, Stan
DNP
21 / 55 [0.382]
2 / 15 [0.133]
6 / 11 [0.545]
35
6
8
5
10
15
50
Referees