info(at)dreamleague(dot)org

---

facebook | twitter

---

New site!!!: DRMLG.ORG
DREAMLEAGUE HOME
Poor Man's Commish
SEASON HOME
SCHEDULE/SCORES
STANDINGS/TEAMS
PLAYER STATS

RULES & REGULATIONS
ABOUT US

ONLINE WAIVER

HELP/COMMENTS


---

---

---

New site!!!: DRMLG.ORG
DREAMLEAGUE HOME
Poor Man's Commish
SEASON HOME
SCHEDULE/SCORES
STANDINGS/TEAMS
PLAYER STATS

RULES & REGULATIONS
ABOUT US

ONLINE WAIVER

HELP/COMMENTS

2009`Fall/Winter NL (NYC)
The Post-Season Perch (12.17.09)
When the NL rolled out its 5-team season this go-around, it didn't know what to expect.

It certainly couldn't have expected this.

If there is one thing in life aside from death and taxes that is a given, it's that, often times, you never know what tomorrow will bring.

Like, who knew that the DL would only carry 5 teams this season? Who knew that AI would ever wind up back on the Sixers? Who knew that the Steelers would drop 5 straight games after starting 6-2, including losses to such cupcakes as Cleveland, Oakland, and Kansas City? Who knew Evan Turner went through such hardship? And who knew that life would unfairly give him a broken back that is forcing him to sit out the bulk of this season in what was shaping up to be a player of the year kind of campaign? Who knew Jeremy Lin would be on many NBA draft prospect lists? Who knew that Harris Chung would one day be leaving New York for Hong Kong, which apparently is the case now. (The thought of HC hammering down on the head of a poor mismatched HK Canto kid who thinks he can guard him is amusing.)

And speaking of Harris, he and his Spartans, his Super Spartans who ran roughshod through last season on the way to the chip, inexplicably, suddenly, shockingly, find themselves done for the playoffs courtesy of a 2-0 sweep at the hands of A Ball.

Hack, hack, get to the back, being the #1 seed obviously didn't impress A Ball at all, who had to win a play-in game just to get to the semis. (They only won that by 2 over IPC.)

With a convincing 62-55 win in Game 1 and a 66-62 win in Game 2, A Ball, who always comes up with a post-season upset or two, has officially indoctrinated themselves as the greatest mediocre regular season team who makes massive waves in the playoffs.

They rarely finish above .500 in regular seasons and yet, they always score at least one upset in the playoffs, and last season, they rode their magic carpet all the way to the finals where they gave these same Spartans a run for their money before falling short.

So, call this one revenge, call it huge, call it what you will, but to Usama Nausrudeen, it's just another day at the office for him. As his interview suggests, he feels that with him and cousin Ray Mohammed, they should be winning chips and accomplishing what they've just done. Anything less is unacceptable.

While the rest of us wonder how they gone and done this, U-Naus waits for his next opponent, ready to do again what he did to the Spartans: 24 ppg and 6 rpg. Cuz Ray Ray will be right there too, coming off a 19 ppg, 5.5 rpg, 4.5 apg 2-game average against who many widely considered to be a shoo-in for repeat championships.

And lest you think it was just a two-man show, don't forget that without Jeff Moy or James Park, the family affair between U-Naus and Ray Ray wouldn't have gotten this far. Moy averaged 9.5 ppg and 4.5 rpg in the Spartan series and JP poured in 14 points and 6 boards in the clincher. Andrew Chen, Danny Chin, and Kevin Coll were out of the line-ups for both games and while no one wants to say A Ball's best line-up might obviously be with who they had for the semifinals, GM Jae Ha Hwang may have no choice but to look at the facts when considering what rotation to play.

The not so Super Spartans, after another solid regular season, turned out to not have enough in the tank when it mattered most this campaign. While it ain't the Steelers massive meltdown a year after their Super Bowl, it's a regression nonetheless. Not exactly the swan song HC had in mind. And because he's man enough to take it, if there's any singular reason the Spartans are not advancing this season, or even why they didn't make this a 3-game series, it's because of the bound for Hong Kong forward.

Across two games, Chung clunked for 5/21 from the floor, averaging just 7 ppg and turning the ball over 6 times in Game 2, a competitive contest in which every single possession counted more than life itself.

Maybe HC was looking ahead to HK already? (And we already hear ex-DL guys who have transplanted out there calling his name.) Who knows, but he also didn't receive much help from some usual sources of production this season, namely Joe Kim, who after an offensive season in which he averaged 10.3 ppg, scored only 4 and then 1 point in Games 1 and 2 respectively.

Anyway you slice it, good offense from A Ball, bad offense from the Spartans, good defense by A Ball, bad defense by the Spartans, the play-in team has toppled the 1-seed. This ain't March madness, but it's mad all the same.

And speaking of mad, he who plays madder this Wednesday in the decisive Game 3 in the other semifinal, is gonna get their shot at A Ball in the chip, which will take place after the New Year.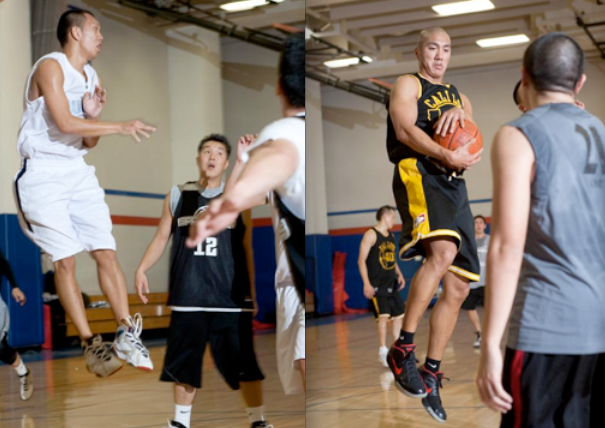 Game 3: Who will hang around in the playoffs longer? Cali or the Cruisers?


The Cruisers-Cali Love series has so far given us a little bit of everything – not that that's a good thing.

Game 1 gave us four Cali Love players against the Cruisers squad and even though two of those four were named Shawn De Los Reyes and Nic Echevestre, even two former MVPs could not be supermen and lift their short-handed squad to a win against a Cruiser team with three former MVPs (though one of them, CB Liu wasn't present.) Mike Won, who woke up Sunday morning to find his car had been towed, was an unexpected no-show, and Love, who were already missing out of towners in two Brians and a Daniel, got their heads handed to them, as well they should have for desecrating the game, not coming with a full complement of 5. Howie Chu collected a double double and Eddie Wang winged it for 18 points, including 4 of 6 from downtown. Being the guy left open when 4 defenders scramble to cover 5 has its advantages. Ask any guy in hockey who's on a power play.

In Game 2, with their backs against the wall, but with Daniel Liu and Won back, Love outlasted the Cruisers 54-53 as Liu put-back a shot with 1.2 seconds left to give Love life in forcing Game 3 to come.

That kind of heroic effort is going to be needed again from Cali as in the rubber match for all the marbles, expect another thin rotation as once again Daniel will be out of town, Wilson Wang will be tied up with romantic obligations, and Brian Liang, who always returns to California for the last month of the year, will be watching his Warriors lose another game rather than playing in the most important game of his team's season.

The Cruisers may be down H-Chu, but that just means that George Chan, who is having a quiet series averaging just 5.5 ppg, will have to step it up while partner Tony Hu takes the lead. The Cruisers, who had their worst regular season in DL history at 4-4, can make up for that with a win and a shot at the chip. The season series, in 4 games so far, is tied at 2-2. Game 3, in essence, is Game 5. Let's see who comes alive.