This may be the AAA, but what took place up at JRHS on Sunday was XXX-rated, cause no man, woman, or child could have believed what they saw took place in the TSIVOS-Bearmen game.

There is victory from the jaws of defeat and there is losing from the jaws of victory. And now there is also – "I have no idea what I just saw, but I felt really dirty for just having saw it."

TSIVOS escaped with an improbable victory in a semifinal match-up with the B-Men, winning 61-53 in overtime and if members of the Bearmen are 99 years old and scarred by the memory of this one, we'll understand.

With less than 15 seconds in regulation, we're pretty sure what happened here has never ever happened in the history of the sport anywhere in the world. Nothing crazier related to the sport in fact, since the advent of Slamball.

Down 1, the B-Men's Kash Miah was fouled by Dave Wong, who brain farted and fouled Kash with 14.7 seconds to go thinking they had one to give when in fact they didn't. Kash calmly sank both and put the B-Men up 50-49. After a failed OS try, Ricky Vein got to the line for the B-Men and stuck both to put them up 52-49 with less than 10 seconds remaining.

After another failed OS attempt, Kash grabbed a defensive rebound and rather than let OS give the foul for Kash to go down and cash what would have been two sure free throws, his teammate Wilson Lew called a timeout just as Arif Ansari was about to obliterate Kash into pieces. The foul came after the time-out and so, instead of 2 shots, they got the ball out on the side and had to restart a play.

Lew got the ball inbounds and was fouled to go to the line. One second and change remained. Hit one and this game is over. He missed the first and then was removed from taking the second for a second when the B-Men where whistled for a technical foul for not understanding the rules, delaying the game, and not having a man on the box during the free throw (you MUST have two players on the box when your team is shooting free throws, no matter what point of the game it is, people.)

Ray Huang hit the tech and OS was only down 2. Lew had one more shot to shoot and upon missing it, with no time-outs for OS and essentially no time, it was still a done deal. Huang got the rebound, was inexplicably fouled by Lew, putting Huang on the line the other way with 0.3 ticks left to tie it.

That's exactly what he did and that's exactly how this game went into OT tied at 52.

We're still not sure what we just wrote as it's pretty hard to understand, even if you were there to witness it in person. Did Lew try to throw this game on purpose? The time-out was perhaps a moment of panic. The missed free throws was unfortunate. But the foul at the end? With the low-hanging rafters of JRHS making a full or half-court shot all but impossible (one would have to get it through the steel arches and make a H-O-R-S-E like shot), Huang, as gifted as the southpaw's shot is, would have never made it.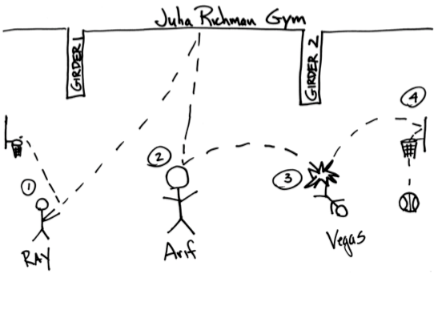 The play OS drew up at the end until Wilson's foul negated the need.


OT came, it went, OS outscored the B-Men 9-1 in it and when the final horn sounded, not a single person in the gym was quite sure what had just happened. Three days later, investigators are still as baffled as the moment it started to happen.

Whatever the case may be, TSIVOS gets back to yet another final where they await the mess that is the loser's bracket to unfold.

The B-Men are still alive and tonight, Thelonious Dunk, who soldiered through Run & Gun on Sunday, starts to make that muck a little clearer as they do battle with Team Wet.

TD dismissed the #2 seeds with great games by Dave Wang and Mike Choi who collected his first ever playoff double double (10 pts, 11 rbs.) MC won't be in the house tonight however as he will be in balmy LA celebrating the 100th day of life of his baby twins, honoring a Korean tradition that right about now, his team wishes never caught on when the Han dynasty started it generations ago.

This one (and the winner of it could play TWO games on Thursday depending on outcomes) promises to not only be a battle, but a battle royale, with cheese.

Evenly matched, similar hearts, fast guards, and savvy veterans to boot, of the 3 games happening on the docket Wednesday night (and one of them is the NL Finals Game 2), this looks to be the marquee match-up of the evening.

If you're not going to come see JL4 and Harvard take on Columbia on Jan 29th at 7pm, at least come out and see this one instead. :)