info(at)dreamleague(dot)org

---

facebook | twitter

---

New site!!!: DRMLG.ORG
DREAMLEAGUE HOME
Poor Man's Commish
SEASON HOME
SCHEDULE/SCORES
STANDINGS/TEAMS
PLAYER STATS

RULES & REGULATIONS
ABOUT US

ONLINE WAIVER

HELP/COMMENTS


---

---

---

New site!!!: DRMLG.ORG
DREAMLEAGUE HOME
Poor Man's Commish
SEASON HOME
SCHEDULE/SCORES
STANDINGS/TEAMS
PLAYER STATS

RULES & REGULATIONS
ABOUT US

ONLINE WAIVER

HELP/COMMENTS

2006_Summer/Fall AAA (NYC)
Playoffs - Round 1
Playoff Peek

11:48am

And so tonight begins another post-season journey here in DL-Nation – the first AAA journey we'll have ever had and if you can't see that my eyes are bloodshot from staying up all night racking my brain on how this will all play out, that's cause you're not looking at me. You're not paying attention. You're thinking about your game, and frankly Seoul, that's how it should be.

Incidentally, before I break it down, please click over to the NL page to read the NL's Playoff Preview. When I read Khom Wie's piece, I soiled my pants. Badly.

Congrats teams on a fine regular season. No one went winless and no one went undefeated – a real testament to the strength of the competition. Even the 16 Minute Men picked up a couple wins. They made me sweat for it as they both came late in the season, but hey, they got it done and made me look good (I promised they'd get their first ever win at some point).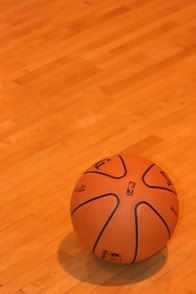 Let's get this on - new NBA ball or not.


We'd hand out hardware now for All-Stars, MVP, All-Defense and whatnot were it not for the fact that we're not like other leagues in this area. It's not what you do just in the regular season, it's what you do in the play-offs too!

What? No regular season MVP and play-off MVP? Dudes, do we look like Mister Moneybags?

So that portion of this fun will have to wait.

This portion, the first round match-ups, will not:

(8) Sea Slugs vs. (9) 16 Minute Men: The first game on the docket Wednesday night, rightfully, is the play-in game between the 8th and 9th seeds. The Sea Slugs come into this game just having played the most putrid game of their season. After a nice 3-game winning streak, they seemed to be gelling (are you gelling?) and seemed capable of sky rocketing all the way up to the 5th seed with a win against Bonzai. Instead, they laid a dozen eggs and scored a meager 22 points in a bad bad loss. Well, this is the playoffs, they'd better wipe their memories clean and start over quick. The last time these two teams met, they were both winless and the Slugs beat 16MM by 10 to get off the schneid and send them on their way to that winning streak. That seemed like a long time ago cause since then, as aforementioned, 16MM has collected a couple of wins of their own, including one in impressive fashion against the then #1 team, HKT.

Sea Slugs

The Slugs have a plethora of guards, all who can do different things decently. Tony Dang (11.5 ppg) can shoot the rock, Ricky Auyeung (1.8 apg) can pass the rock. And Simon Yuan is a rock. Have you seen his arms? The player with the hottest name in the AAA, Bill Lee-Magtoto and Hanh Dang also provide good scoring and defense off the bench. You look at their guards and you wonder why they've had such a tough season. Well, it's because, as a team, they've ranked towards the bottom in FG% (32.9). Most of their shots come from the perimeter and they hardly ever go to the rack. Their interior players don't take it at the defense either. Peter Lantin hasn't come to many games and that's a shame cause he's an enforcer in the middle who can change the way a game is played. Jimmy Nguyen has struggled with his shot this season, probably from working the graveyard shift and Chris Gamboa - 80% from the line – needs to get there more. As a team, they took the fewest free throws in the division –100. The next lowest team was the Rage with 115 and the highest was Picked Last in PE with 186 just to give you an idea of where they are. Where they are good is on the glass. While their bigs don't attack much, they do box out. The Slugs lead the AAA in team rebounding with 30.6 caroms a game because all their forwards can board. Speaking of forwards, the biggest mystery to me on this team is Jeph Dais. This man could be a star. He shoots the ball well (45%), rebounds, and has the most stylish socks around. Why he gets so few looks is beyond me.

The Slugs should rise tonight.


16 Minute Men

16MM has played well as of late. If they can beat HKT, they can beat anyone on any given day. Whether they'll get by on the Slugs will really depend on who suits up for them tonight. One of their biggest problems has merely been fielding a consistent line-up throughout the season. One never knows who captain John Wong will start. Not one player was there for every game for the team this season and they had a revolving door roster that was the reason why so many of their men had to wear undershirts and be "double zero" when they came to play. I hate when guys don't wear jerseys, it just looks totally unprofessional. For them to advance onto play Picked Last, Simpson Wong has to show. It's as simple as that. He scores, rebounds, assists, and steals. He gives 16 an entirely different look. If the silky forward also had center Ed Lu and shooting guard Joe Kataoka alongside him, 16's chances are extra good. Lu is the Zydrunas Ilgauskas of the DL-AAA – a center who likes to shoot outside and shoots it well. Kataoka, along with Jason Yeh and Donald Hom provide 16 with their points and D. Kataoka is actually the swat guy on this team as he averages a block a game. Outside of Wong, there aren't many decent 3-point shooters on this team and what in the world has happened to Mun Ng? I know he had a hamstring injury and his wife just had a baby not too long ago, but he still shows up to games here and there and looks like a shell of his normal self. He ought to just be taking some time off recovering, relaxing, and raising his infant, not going out there and shooting 17% from the field, 11% from the arc. That's not him. In general, this team's problems arise in the second halves of games when fatigue starts to set in. They rank towards the bottom of the league in creating turnovers and committing turnovers and if you were to take a closer look, most of that is cause in the 4th quarter of games, they are standing around on defense and throwing away passes. They can't do that tonight against the Slugs or they are one and done.

The Call:

I like the way 16 has been playing as of late. Two wins in their last three games, that's gotta build confidence. The Slugs had that until their game on Sunday when the roof caved in and the bottom fell out. When both those things happen simultaneously, it's not a pretty thing. I trust that Auyeung can shake off his 0 for 11 performance and if Lantin shows, 16 will have too much to handle inside. 16's playing their best ball ever, but something tells me key individuals will be missing, the Slugs will have forgotten about Sunday and the fact that Wong's team allows a league worst 50.8 points per game will be too much. Picked Last, start scouting the Slugs.

3:15pm

(2) HKT vs. (7) LYSE Shot: The AAA's second game tonight appears to be heavily favored towards one side. HKT posted a 20-point win on LYSE early in the regular season and will put their AAA leading steals per game (15.3) defense on LYSE's AAA leading 20.6 turnovers per game offense. But the one thing a quick glance at the key things will not tell you is that HKT is on a brain-numbing 3-game losing streak. In two tough tests to Jurassic Park and Picked Last, they came up empty. And in one seeming gimme against 16, they fumbled it away in overtime. Three of LYSE Shot's four wins, on the other hand, have come against these very three teams. Does LYSE have a Shot to beat HKT? Let's take a look.

The computer picks HKT.


HKT

Let's get one thing clear here, HKT is still a good team. Despite the 3-game skid, they didn't win 6 in a row to start the season for nothing. They have a deliciously potent starting 5 led by their MVP, and perhaps the AAA's MVP, in Sing Lau. To say that the tattooed point guard is valuable is like calling Bill Gates rich. Duh. Sing ranks amongst the league leaders in scoring, assists, 3-pt %, steals, and unfortunately, turnovers. His turnovers usually come when he's trying to force a breath-taking pass through 4 defenders to an awaiting post guy, so they'll live with those cause he completes most of them. Plus he is such a thief on defense – HKT leads the AAA in steals by a mile – he's a got a license to do anything he wants on the court in transition. His backcourt mate Johnny Leung is one of the best finishers around and they have a trio of forwards that have been the envy of the division. Steven Lee has dropped off the map, but with Kevin Fong, Tony Lau, and Ka Fai Ng, the frontcourt game for HKT is still in good hands. T-Lau scores (10.2 ppg), Fong boards (8.3 rpg), and Ng's productivity per minute on the floor is off the charts. In their losing streak the one constant has been their inability to come up with crunch time stops. When they most need a play, usually Sing makes it, whether on offense or defense. He seems to have lost a little of his mojo, but I think they'll be alright overall. They haven't forgotten how to win and it's probably good that they got their hiccups out before the post-season.

LYSE Shot

Overarching all of the pretty wins that LYSE has collected this season have been a few nasty things. While, this young team has proven that they can beat the likes of the elite in the AAA, they've also proven that they have the lowest scoring offense in the division (32.8 ppg), commit the most turnovers, and record the fewest steals (8.1 spg). They are a sub 50% free throw shooting team so what these ugly facts suggest is that this is still a green team. They can catch fire and take down the Goliaths, but at their worst, they are a team who can't shoot the rock, cough up the ball far too much, and when they get down big, tend to self-implode. They have been whistled for the most techs on the season and several of their players carry a swagger to them that kids 18-22 these days just shouldn't have. But not captain Ethan Lung. Ethan just puts his head down and plays. He isn't flashy and doesn't lead the team in one particular category, but if you've followed this team, you'll notice that in their biggest games, he's usually the one who is the difference maker. It's either a big jumper or a hustle play, but the captain who quietly goes about his business has earned the respect of his peers around the AAA. The glamour players who get the press – and the one who have been called for the T's - Ian Yu and Carson Yiu usually carry this team. How they go is how the fortunes of LYSE go. Yu (11.8 ppg) can score, pass, and steal, but he also commits far too many turnovers (6.0 per game) and gets himself into situations where he's trying to force a shot in a triple team. He can't do it all by himself. He needs Yiu to hit the glass (6.0 rpg) and provide ample scoring after him to stand a chance to make a run. Seth Lee is a decent 3-point shooter and Scott Mui has shown some pop, but generally, with their lack of size (only .55 blocks a game as a team), they are the ones getting thrown around. They have quality wins, but they also have three losses in which they've been blown out, losing by 14 or more.

The Call:

HKT comes into this game in a state that no one is sure of. Refocused? Or still the team who hasn't tasted victory since October 1st? With LYSE, you never know what you're going to get. One week, they're beating Picked Last in PE and the next they're losing by 18 to the Rage. They're a frustrating team to follow, if you're a fan. They are more than capable of beating HKT, especially if HKT plays below their standards again, but with all the expectations of HKT despite their spate of losses, and because LYSE is a super young team with several players with no playoff experience (not that HKT has any in the DL either), I see HKT getting back their magic and stealing this game right from under LYSE's nose.