info(at)dreamleague(dot)org

---

facebook | twitter

---

New site!!!: DRMLG.ORG
DREAMLEAGUE HOME
Poor Man's Commish
SEASON HOME
SCHEDULE/SCORES
STANDINGS/TEAMS
PLAYER STATS

RULES & REGULATIONS
ABOUT US

ONLINE WAIVER

HELP/COMMENTS


---

---

---

New site!!!: DRMLG.ORG
DREAMLEAGUE HOME
Poor Man's Commish
SEASON HOME
SCHEDULE/SCORES
STANDINGS/TEAMS
PLAYER STATS

RULES & REGULATIONS
ABOUT US

ONLINE WAIVER

HELP/COMMENTS

2006_Summer/Fall NL (NYC)
Gen X Generatin' Buzz
Gen X still has a ways to go, but their championship aspirations became just one step closer to reality with a stunning 58-34 smackdown of the 2nd-seeded Renegades on Sunday in the semi-finals.

Yes, the Gades were without some important cogs - Pete Prassos and John Chung to be exact – but the same could be said of Gen X, who were without last season's All-Star Game MVP, Dennis Yang.

(Speaking of the All-Star Game, this season will be the first season in which we will have to skip the festivities due to scheduling limitations. All you All-Leaguers will however be getting a nice gift that you must come down to the Championship game on Wednesday or Thursday to pick up.)

Gen X made it 4 for 4 so far in the loser's bracket to gain entrance into playing for the Chip this Wednesday against #1 Homecrest.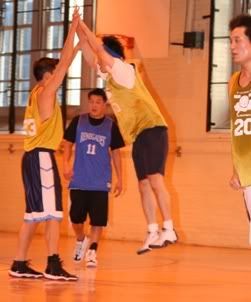 Schopen and Gen X are psyched!


Their incredible run has been based on this philosophy: just one at a time.

M&A 101, Da Bien, Tri-State, and now the Renegades. All came and all went.

And Gen X hasn't just been winning. They've been pummeling.

Gen X has won these games by an average of 18.75 points, usually making the 4th quarters mere formalities.

To say they're blistering hot right now might still qualify as the understatement of 2006 with just three weeks left in this year.

We'll take a look at how they match up against the Cruisers later this week, but in looking at how they dismantled the runnin' Renegades, it's hard to say they have any weaknesses right now.

Brandon Chock didn't do a whole lot offensively – just 2 field goals – but he cleaned the boards till they were spotless for 20 caroms and just dominated the smaller Renegade front line.

Rob Schopen still has it going on. He dropped another 3 triples, all in the 3rd, to take away any air that the Gades were still gasping at after falling behind 21-9 at the half.

Their defense has been ridiculously good as they held the normally high octane Renegade offense to a season low point total and field goal percentage of 23%. The Gades 3-point shot was foul (just 2 of 23) and after they opened the game with a 7 point 1st and 2 point 2nd, we found ourselves in disbelief.

This was as if the Indianapolis Colts lost 44-17 or the New England Patriots got shut out (wait that both happened on Sunday.)

And Gen X's new young buck, who has saved his best for the post-season, is peaking at just the right time.

After coming off a 13 point, 17 rebound effort against Tri, Al Chen turned in a 15 point, 8 rebound performance today. That makes three straight games he's been in double figures after doing that just once the entire regular season. (Jerome James, Seattle Sonics circa 2005 anyone?)

With Sung-Mo Cho doing his thing, Danny Wang directing the offense, and the return of Yang this week, the buzz in the Gen X camp is legitimately real.

Paul Ohshima just may want to think about hoppin' on a flight back from Tokyo in the next couple days.