This week, we take a look at one of the newbies in the Dream League through the eyes of one their own, Myong Choi. A member of California Love last season, Choi brought his old team, the Renegades into the League to run amuck in NL. With talent, history and flair, the Renegades look to have the ingredients for success in their inaugural season. But having the ingredients and making them taste just right are two different things. So I sat down with Choi at the Motor City Bar in the LES, a perfect watering hole for a Renegade, to discuss basketball, life, and more basketball.

Renegades 4 Life


Mike Owh: Hey Myong, how're you doing? Good, OK. Let's start the way we should: at the beginning. I was actually a history major in college so believe me when I tell you that I'm really interested in the history of your team. How did the venerable Renegades come into existence?

Myong Choi: The Renegades actually started about 20 years ago and has been passed down each generation, most recently to Gene Kim, who's been in charge for the past 10 years or so. The current team got together about 4 years ago. About a year ago, the team went on sabbatical until the first Dream League game [on 8/9/2006].

MO: Wow! I thought only artists and professors take sabbaticals. Are you sure it was just a professional break? Hmmm, maybe we had a bit of a Jennifer Aniston and Vince Vaughn sorta deal going on? Well, I don't want to bring up any tension or bad memories, so maybe we should move onto less troubling matters. Like, how old is Gene Kim?! He's been in charge for 10 years?! When I see him during the game, he better not be coming in on a walker and wearing Depends, yo. Alright, seriously, I'm just playing. Let's talk more about this specific incarnation of the Renegades.

MC: We got together about 4 years ago. Gene, John Chung, Billy Nam and myself have been in the Northeast Asian basketball tournament circuit for the past 10-plus years. During college, we used to play AGAINST each other all the time, so we all knew of each other. After college, we decided to merge. Ace Watana, who's a former UConn Huskie team member, Eddie Wang, Mike Kim, and James "Chump" Choi were linked together by 6 degrees somehow and play a major role as key players and the younger half of the team. Pete Prassos, who will not be participating this season, is James' good friend and also played a major role. Joe Kim, former Cali Love member, is the newest addition.

MO: Hmm… Prassos. That doesn't sound so Asian. But then again, neither does Brian Yang's Chinese. Speaking of which, I love how you guys decided to merge your talents to create a super team. But I'm much more glad that you decided not to name your team Mergers & Acquisitions 101 because that would have been lame. What? There's a team with that name out there?! Spooky. So being as how long you guys have known each other, do you guys practice a lot?

MC: Never. Too many conflicting schedules and our homes are too spread out.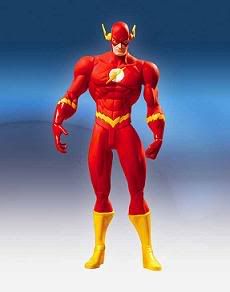 If Mike Kim wore red...


MO: Hey, that's the same excuse Moe's Tavern uses, except we substitute the "too many conflicting schedules" part for "we drink too much" and the "our homes are too spread out" part for "we love beer." Oh, except for Eugene Kim, that is. He just likes to spend time with his lovely family. The rest of us have to drown our sorrows for lack of such family. But enough about us, let's talk more about the Renegades! Who do you think is the best player on your team?

MC: Mike Kim, but he is coming off a ruptured bicep, so we'll see. [Ed: With 18 points in his first game, Kim seems fine.] Mike is tireless and very competitive. His athleticism cannot often be matched.

MO: You forgot to mention how fast Mike is. That guys is a blur when he's out on the court. And you know what? He's the exact kind of guy you would expect on a team named the Renegades! Well, when I first saw him play, he had the ponytail, which looked very rebellious and gangsta and now he's got the shaved head, which looks more monk, but still gangsta. And he's got the super speed thing going. If he had a red suit with the lightning bolt on it, he'd be the perfect Flash. Watch out, D-Wade! Well, if Mike is the best player, who's the team clown?

MC: Billy Nam. He's got a funny impression for everything. He's also the oldest guy on our team but sometimes acts like the youngest.

MO: Good impressionist, ey? But can he do an impression of Taylor Hicks? (Mike starts singing "Possibilities" while swaying spastically and wearing what some may call a constipated look on his face as Ford model cars drive all around him. Myong is unmoved.) You like that? No? Fine. You know Taylor Hicks gets all the ladies, right? All those moves and the crazy singing. And the constipated face. That's the key. Who's got the keys to the ladies' hearts on your team?

MC: Ace Watana. He's soft spoken and has his own player card from UConn. I can see him mesmerizing and seducing the ladies with both.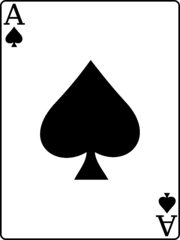 Ace will now be known as this symbol.


MO: Interesting. And he does have an awesome name. "They call me Ace. Why don't you give me a call, baby. Just dial numero uno. Number one." So who mesmerizes and seduces with his wardrobe?

MC: Ace. When he comes straight from work, he's in a suit and tie.

MO: Wow, Ace! Two for two. That's why he's the Ace. OK, I'll stop. Let's move onto something more personal. I think this will tell us a lot about how you feel about your teammates. If you had to choose one guy to date your sister who would it be?

MC: I would choose nobody, but if I HAD to it would probably be Eddie Wang. From the time I've spent with the team, Eddie is the nicest guy out of everyone… off the court. He may straight up embarrass you ON the court though.

MO: I wouldn't choose Eddie Wang. I heard stories, you know what I'm saying? Just playing. So I'm just going to assume that Eddie's the nicest guy on the court. To be honest, if I had a sister, I wouldn't let anyone on a team named the Renegades get near her. You guys are too wild, too unruly; or at least that's what you're team name implies. Then again, if I had a sister, I wouldn't let Dweebie McDweeb from the math club get near her either. So maybe it's just me. Let's get back to basketball. How long have you been playing basketball?

MC: Pretty consistently since 5th grade. 18 yrs ago. I just wanted to play in recreation leagues with school friends.

MO: I think that's how most of us get started. I still remember that one time when I enrolled in a new school and tried to make new friends by showing them my sweet reverse layup. Well, I didn't make any friends that day in the playground, but I did make one fan. Yes, she was the librarian; and yes, she didn't know a basketball from a cantaloupe, but Mrs. Thornbush, if you're 85 year old bones ain't in the ground yet, just know that you rock, you awesome old lady you! Best. Librarian. Ever. Which reminds me, who's the best basketball player ever?

MC: Michael Jordan.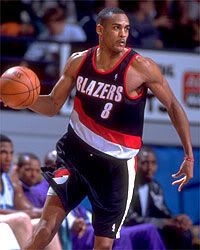 Steve Smith 2004???


MO: OK, you bandwagon jumper. At least be creative and go for Sleepy Floyd or maybe Kenny Anderson. Just playing. Who do you think your game is modeled after?

MC: 2004 Steve Smith or Horace Grant.

MO: Wow! Now, that is creative. I've seen you on the court and I'll go more with the Steve Smith school than the Horace Grant school. That is, unless you have a secret twin brother who's not as good as you, but looks like he could be. On a completely unrelated note, does playing basketball assist (Mike winks) you with the fairer sex?

MC: I would like to think so, but my personality usually ruins any chance anyways.

MO: Oh, come on, Myong. Let's not play coy, my friend. I've heard some things, you know what I'm saying? Wait, I already used that line today. Let's move on. If you had to choose one person in history to play one-on-one with, who would it be?

MC: Tupac Shakur.

MO: Great choice! I love 2pac, the ghetto poet, the hip-hop genius. You know that track, "How do you want it"? With KC and Jojo? I actually gave him the idea for that track. Back in the day, I was working at this taco shack and he came up and ordered a carne asada and I asked him, "Yo, how do you want it?" And he was like, "What?" And I said, "I'm asking 'how do you want it?' Spicy, mild, guacamole? He says, "Spicy, man." And I'm like, "Do you know how spicy feels? Are you ready to live in the fast lane? Because spicy is for real!" Then his eyes just got big and wide and he yelled, "Snap!" And he just ran without even paying for his taco. A couple of months later, I'm listening to the radio and I hear that song and let me tell you, I wasn't mad. I was just feeling bad because I had to pay for that taco out of my check and he didn't even give me a shout. But that's cool. Do you have any special songs or music to get ready for a game?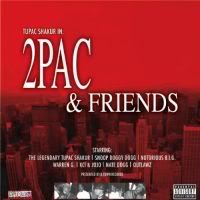 I'm not one of those friends. But I should be.


MC: I don't listen to music beforehand because I don't wanna be too pumped.

MO: Fair enough. Now here's a tough question for you. If you had to choose between playing your Dream League game, a date with Scarlett Johansen, or playing HORSE with Michael Jordan, which would you choose?

MC: Definitely HORSE with Michael Jordan.

MO: Hmmm… maybe that wasn't that tough seeing as how Jordan's your favorite player. Then again, I'm sure your Renegade teammates will be very sad to hear you sold them and Scarlett out for his Airness. Let's bring this back to Dream League. Which team is the best, do you think?

MC: The Renegades.

MO: Of course. You gotta represent. How about the best player in the League?

MC: Tony Hu.

MO: Hu is very impressive. He was also our very first courtside chat. Great player, great man, great interview. Hu is definitely a man who has a good set of rules to live by. Do the Renegades have any rules to live by?

MC: Play hard defense.

MO: Oh man, that's my only rule, too. Actually, I even play defense on offense! OK, let's end this with style, Myong. If you were an animal, what animal would you be?

MC: A dog.

MO: Oh geez.

Prognostications of the Week

Wednesday, August 16, 2006

Da Bien at Renegades: First week analysis? Da Bien looked great behind the always fabulous Shawn De Los Reyes and newcomer Kenny Yu. The Renegades did not look so good outside of the Flash, Mike Kim. In fact, in Yu and Kim, this game may feature two of the fastest players in the League. But guess what? It's still SDR's world. The Renegades are just visiting.

Saturday, August 19, 2006

Tri-State InvAsian at Gen X: The Tri-State Tranformers look good on the court on Sunday versus Funkytown. But playing FTB without Y2K is like hanging with Lindsay Lohan when she's sober. It's just not the same. This week, Gen X should feature Brandon Chock and if the Landlord comes out to take care of his house, this matchup will be HGTV special. If Chock's still MIA, so are Gen X's chances.