Basketball Never Ends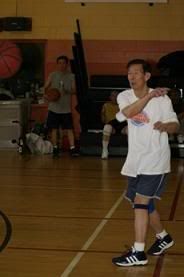 At 72, Louie still got game.
[From NYC commish...]
A couple Sundays ago, I went on down to Chinatown – no, not to get my dollar dumplings, a 50 cent massage, or to play in a New York Rockit tournament that
Denny Lee
was organizing (after all, it's been real cold if you haven't noticed outside), but rather to watch a group of men run in their regular Sunday morning pick-ups that they've been doing since 1969.
?????
Okay, first, get back in your chair, cause I know you just fell out of it.
No, '69 is not a typo. 1969. Nixon was the president. Led Zeppelin released their first album. Apollo 9 returned safely from the moon. John Lennon married Yoko Ono. The Vietnam War was just reaching its midway point. The Brady Bunch came out. UCLA wins the NCAA title...
Read the rest of the story
__________
Labels: chinese, pickup ball